When she started volunteering at the Upshur Parish House three years ago, Caroline Fulks, a member of Bridgeport United Methodist Church and a West Virginia Wesleyan College senior, saw a need for healthy meal options in the food pantry. The grocery packages that come from the Parish House's food pantry are often the main nutrition source for many Upshur County residents, leaving them stuck in poor diets if healthy food options are not provided.
Bridgeport United Methodist Church is a part of the West Virginia Annual Conference.
"In 2019, I attended a Hunger Summit hosted by Mountaineer Food Bank," stated Kristi Wilkerson, Executive Director of the Upshur Parish House. "One session demonstrated how to incorporate healthier options into food pantries. One example that really sparked my interest was offering herbs and spices to decrease the need for salt, sugar, and fat, in recipes. I was delighted to learn that Caroline also had a passion for healthy food pantry options for our neighbors-in-need."
This past Spring, these ideas came into fruition as Fulks submitted a grant application to the United Methodist Foundation of West Virginia to fund a pilot project that would provide recipes with all ingredients needed including herbs and spices. Though Fulks volunteers at the Parish House during the school year as a WVWC Service Scholar, this project prompted her to take on a summer internship at the Parish House, funded by the WV Conference Board of Ordained Ministry. Fortunately, the Foundation grant was awarded and it funded 150 healthy meal kits for Upshur County families to create 3 easy recipes. After extensive recipe experimentation, Fulks and Wilkerson landed on chicken taco soup, no-bake peanut butter balls, and crispy chickpeas as the recipes to include in this program. While all three recipes are nutritious and simple, they also introduced families to new spices and ingredients that can be incorporated into their everyday diets. Families also received a set of measuring cups and a reusable shopping bag with their meal kits.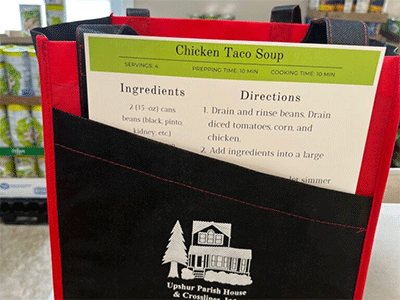 Meal kit with Recipe Card. Courtesy photo. West Virginia Annual Conference.
"We are so grateful to the UMFWV grant program for making this dream a reality," said Fulks. "It is so amazing to give 150 Upshur County families the opportunity to grow their palettes with these healthy meal options."
The meal kits were distributed throughout June and Fulks prepared samples of the recipes for neighbors to try to introduce them to the program.
Each kit comes with a recipe and all the ingredients.
"With a completely new program, we were worried that neighbors would be hesitant to try recipes that are low sodium and low sugar, that also include ingredients that could be new to them. But this worry went away quickly as Upshur County families received the program with enthusiasm and grace," Fulks stated.
Fulks is now in the process of surveying the families who received the meal kits to determine the next steps for the program. So far, they have had nothing but positive feedback, and families are excited for a future round of the meal kits so they can try more new recipes.
"We truly appreciate the grant provided by the United Methodist Foundation that allowed us to begin this program," stated Wilkerson. "We are focusing on the holistic well-being of our neighbors, and we remain committed to offering healthy options for mind, body, and spirit. Caroline has been the perfect person to implement such a program and we look forward to further developing this concept in the future."
In addition to attending WVWC, Fulks is senior class president, a sister of Zeta Tau Alpha, and a Wesleyan Ambassador. She plans to attend graduate school for public administration with an emphasis in non-profit management to continue her calling of assisting others in need.
excerpt from a story by West Virginia UMC Admin, West Virginia Annual Conference
This story represents how United Methodist local churches through their Annual Conferences are living as Vital Congregations. A vital congregation is the body of Christ making and engaging disciples for the transformation of the world. Vital congregations are shaped by and witnessed through four focus areas: calling and shaping principled Christian leaders; creating and sustaining new places for new people; ministries with poor people and communities; and abundant health for all.