Educational Missionaries in China and Singapore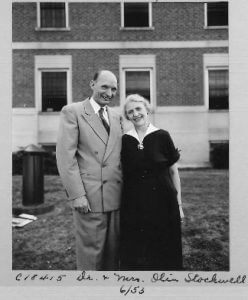 Born in Oklahoma, Olin served as pastor in his home state of Oklahoma immediately after his marriage to Esther on June 20, 1924. In 1929, they went as Methodist missionaries to Foochow, China, and in 1939 to Chengdu. During this period, Olin served as an effective missionary preacher while Esther taught music in church-related colleges. They returned to the United States on furlough in 1941, and Esther earned a master of music degree in Chicago. Olin returned to China during World War II, and Esther rejoined him in 1946.
In 1950, Olin was arrested by the Chinese Communist government and was imprisoned in Chungking for two years. There he wrote some meditations or devotional talks with only the help of Moffatt's translation of the New Testament. He also wrote about his experiences on the margins in an anthology of modern poetry, calling it With God in Red China.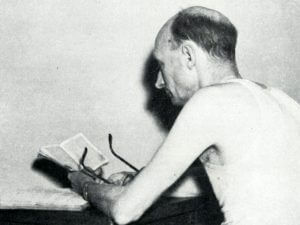 The Rev. F. Olin Stockwell was a missionary serving in Chungking, China, taken prisoner by the Chinese Communist gov. in November 1950. He endured 2 years of solitary confinement, and was released in 1952 and returned to the US.
Olin and Esther came to Singapore at the end of the missionary exodus from China occasioned by the new Communist government and the hatred engendered by the Korean War. They were "missionary refugees" welcomed on to the Trinity Theological College faculty, where they remained for 12 years (1955-67).
Esther taught English and music (piano and organ), and kept her home open to students and friends. Olin had one message, which he preached repeatedly, namely, that a strong church demanded well-trained pastors. He said, "Our march toward a self-governing, self-supporting, and self-propagating church depended on trained leadership, and that leadership we could produce at Trinity."
The Stockwells showed faithfulness and courage in China. Teaching in two languages in Singapore, they manifested a consuming desire to train Christian leadership for the churches of Southeast Asia.
By Ho Chi Sin, Former Bishop, The Methodist Church in Singapore, Republic of Singapore
This article is reproduced from A Dictionary of Asian Christianity, copyright 2001 by Scott W. Sunquist, Wm. B. Eerdmans Publishing Co., Grand Rapids, Michigan. All rights reserved. It is taken, with permission, from the Biographical Dictionary of Chinese Christianity: http://www.bdcconline.net/en/stories/s/stockwell-f-olin-and-esther.php
Sources:
Stockwell, F. Olin, With God in Red China (1953); Meditations from a Prison Cell (1954).