Two-year-old Aminata and her father arrived at the Hatfield Archer Memorial Methodist Hospital in Rotofunk, Sierra Leone, at midnight. Her breathing was shallow and rapid, and she was feverish, weak and pale.
"I was surprised to see a father playing a mother's role," noted the community health officer, Mohsen M. Lumeh, since most children arrive with their mothers. Testing and lab work revealed the baby had a complicated case of malaria and a secondary diagnosis of severe anemia. Lumeh ordered a blood transfusion, placed Aminata on oxygen and started her on antimalarial drugs immediately.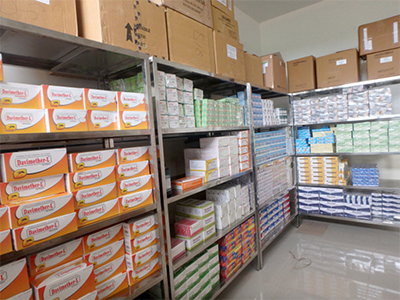 The blessings of a fully stocked, well-organized medicine and supply room, Quessua Hospital, East Angola. Photo: East Angola Health Board.
In just a week, Aminata fully recovered. At check-out, her father asked for the bill, but the cashier replied, "the bill has been settled by Imagine No Malaria," (Abundant Health, Advance #3021770). The father left the hospital in amazement with a broad smile. Often, people wait too long to seek medical help because they fear receiving medical bills they can't pay.
Scenes like this in Sierra Leone are repeated across Africa every day at United Methodist hospitals and clinics. Though malaria, a parasite carried from one person to the next by mosquitos, can be deadly if left untreated, it can be killed with proper treatment. Preventive measures go a long way in protecting communities from constant exposure.
Global Health integrates the work of INM with its Mother, Newborn and Child Health program to reach vulnerable children and their mothers, even before the children are born, when mothers come for prenatal visits.
Just as Aminata in Sierra Leone survived because her father got her to the hospital in time, Amelia Toe, five months pregnant, received the medication she needed at John Dean Town Clinic in Liberia. The four-hour trip was made in a hammock, but after a week at the clinic, Amelia Toe recovered. "I thank God for the doctor woman who went to the school to teach our children about malaria and all the sickness," she said.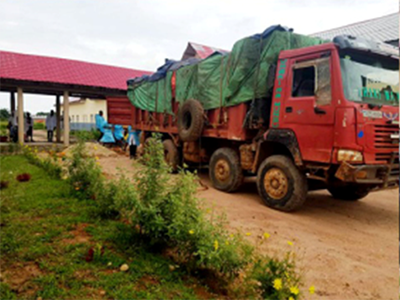 North Katanga offloads supplies from a big truck.
Health workers at Quessua Hospital in East Angola have increased awareness of malaria prevention measures by visiting communities. Patient intake is rising, more people are using nets and deaths from malaria have decreased.
In Central Congo last year, the INM office extended its educational program to work with 20 traditional healers to identify signs of malaria and refer cases to health facilities.
Delivery of medicines, nets and other supplies to United Methodist facilities is a vital part of INM, which takes complicated logistical coordination, particularly during rainy seasons when roads are often impassable. Unfortunately, that is also when mosquitos breed.
The North Katanga area has tackled this problem by hiring massive trucks with huge tires. This gets the supplies to the major facilities and pick-up points. However, the rest of the journey to the rural clinics must be completed by motorcycles.
Somehow, the deliveries are made. Lorraine Charinda, an agriculturist missionary in North Katanga, thanks God every day for this work. She says in the three years she has served with Kamisamba Farm, she's had malaria more times than she can count. "This is the worst place for insects. Malaria cases are very high, and people cannot afford the medicine, which Imagine No Malaria supplies for free. Without Imagine No Malaria, there would be many dead here. So, I really appreciate that work."
excerpt from a story by Christie R. House, consultant writer and editor for Global Ministries and UMCOR.
The Advance is the accountable, designated-giving arm of The United Methodist Church. The Advance invites contributors to designate support for projects related to the General Board of Global Ministries. Individuals, local churches, organizations, districts and annual conferences may donate to The Advance. One hundred percent of every gift to The Advance goes to the project selected by the giver. Gifts to missionaries support the entire missionary community.