Kaleigh Rudge credits The United Methodist Church for creating an environment where she could learn, grow and build a relationship with Christ. Growing up at Church of the Master UMC in Westerville, Ohio, she was always surrounded by a loving and supportive church community in addition to her own family. Her parents were very involved in the church and set the foundation for Rudge to participate in church activities. Through the church, she had the opportunity to participate in summer camps and explore God's creation. "Growing up in the church led me to my passion for serving others and being a blessing in other's lives and gave me the opportunity to serve with Reach Mission Trips," says Rudge.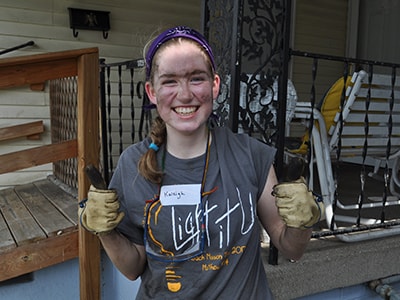 Kaleigh Rudge poses during volunteer work. Courtesy photo
As Rudge prepared to enter college, she heard about the United Methodist Student Day Gift of Hope scholarship, from her youth director and from doing her own research, she felt another level of support from The United Methodist Church. Rudge says that "receiving the United Methodist Student Day scholarship has changed my life because it has allowed me to pursue my education in mathematics without having to worry about the financial burdens of paying for my college education, which is a common concern shared by many of my peers." Rudge is currently a student at Colorado School of Mines in Golden, Colorado.
Rudge's experiences in mission work, book clubs, gymnastics, girl scouts, children's choir and her family's background in the science, technology, engineering, and math (STEM) discipline helped her define her career path. "My school is preparing me for what I hope to pursue in the future by teaching me how to ethically engage in communities and projects and to learn how to focus on the needs of the people I am serving to best assist them and help them grow. Additionally, I am expanding my field of knowledge and building relationships with professors and experts in my field, giving me resources and a way to seek mentorship, said Rudge.
In addition to her regular classwork, Rudge is a Child Support Worker at First United Methodist Church of Golden, Colorado where she helps create and facilitate activities to teach the children of the church on Sunday mornings during worship service. Additionally, she is a part of the summer management team at Reach Mission Trips where she helps set up classes and run weeklong work camp mission trips for church youth groups who serve in low-income communities. She is also a mechanical physics teaching assistant, helping students learn about Newtonian physics.
Rudge feels that the church should support the United Methodist Student Day offering because it lessens the United Methodist students' financial burden. "By supporting the education of students now, it will help better prepare them to learn how to use our faith and our spiritual gifts to create a better world, she said.
Give generously to United Methodist Student Day offering. Give Now!
Elsie Cunningham, freelance writer in Florida
One of six churchwide Special Sundays with offerings of The United Methodist Church, United Methodist Student Day calls the church to support students as they prepare for life in uniting faith with knowledge. The special offering provides scholarships for qualified United Methodist applicants.