Educator and civil rights activist Mary McLeod Bethune made history as the first Black person to have a state-commissioned statue in the U.S. Capitol's Statuary Hall, when her statue replaced that of a Confederate general.
The larger-than-life marble figure was unveiled in Bethune's home state of Florida in October. It will remain on display in Daytona Beach until taking its place in the nation's capital in early 2022, according to Florida Democratic U.S. Rep. Kathy Castor.
Bethune, the daughter of formerly enslaved people, was an influential educator and activist who — among her many accomplishments — founded the National Council of Negro Women, advised multiple U.S. presidents and created a boarding school for Black children that would later become Bethune-Cookman University in Daytona Beach.
Bethune-Cookman University is one of the black colleges supported by the Black College Fund which provides financial support to maintain solid, challenging academic programs; strong faculties; and well-equipped facilities.
The 11-foot statue, which weighs more than 6,000 lbs., was sculpted out of the largest (and last) piece of statuary marble from Michelangelo's quarry in Italy. It was created by artist Nilda Comas, who was chosen from a field of 1,600 applicants and is the first Hispanic master sculptor to create a statue for the National Statuary Hall State Collection.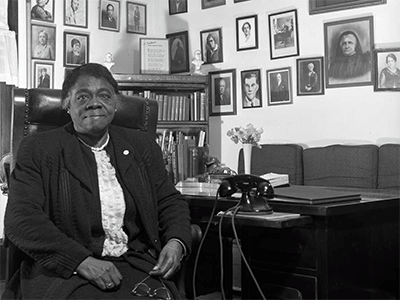 Educator and civil rights activist Mary McLeod Bethune, photographed in January 1943.Gordon Parks/Library of Congress.
"Dr. Bethune embodies the very best of the Sunshine State. Floridians and all Americans can take great pride in being represented by the great educator and civil rights icon," Castor said. "I am glad that she is being rightfully recognized here in Florida before she travels to her place of honor and recognition by all of America in the U.S. Capitol."
The statue depicts Bethune wearing a cap and gown and a pearl necklace, holding a black rose in one hand and a walking stick in the other. She's standing in front of a stack of books, with a warm smile and what one local reporter described as eyes that "capture wisdom [and] kindness."
The base of the pedestal is inscribed with her name, her home state, birth and death dates, as well as one of her most famous quotes: "Invest in the human soul. Who knows, it may be a diamond in the rough."
These symbols each speak to an element of Bethune's life and legacy, the nonprofit explains.
The cap and gown represent her lifelong commitment to education, and the stack of books symbolizes her focus on expanding education for women and people of color specifically. The spines bear words from her one of her famous writings, her last will and testament: love, faith, racial dignity, courage, peace and "a thirst for education."
Bethune collected walking sticks during her lifetime, reportedly seeing them as symbols of refinement and leadership. The walking stick depicted in the statue is modeled after a gift she received from President Franklin Roosevelt, with whom she worked closely.
The black rose represents Bethune's work in education, as well as her belief that "loving thy neighbor" required interracial, inter-religious and international brotherhood, according to the nonprofit.
There are just four other Black Americans represented in statues throughout the Capitol (and about a dozen others in paintings and murals): Frederick Douglass, Rosa Parks, Sojourner Truth and Dr. Martin Luther King Jr.
excerpt from a story by Rachel Treisman, NPR, WPLN News website
One of seven apportioned giving opportunities of The United Methodist Church, the Black College Fund provides financial support to maintain solid, challenging academic programs; strong faculties; and well-equipped facilities at 11 United Methodist-related historically black colleges and universities. Please encourage your leaders and congregations to support the Black College Fund apportionment at 100 percent.