Evangelist and "Flying Parson"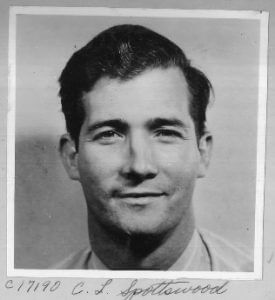 Rev. Curran L. Spottswood, popularly called Spotty, was well known, first for his work in evangelism, in opening up new areas for church mission, and secondly, as a "flying parson" because he used a plane to carry out his work in many distant places. He started as a missionary in the Cagayan Valley, traversing hills and valleys, working with pastors in mission evangelism.
His work in Palanan was pioneering. He brought a whole mobile medical team and pastors who initiated mission evangelism in Palanan. He suffered a plane crash that almost cost his life.
Methodist settlers in Mindanao did not find it congenial to join the churches which had already been operating there under the Comity Agreement. They wanted to retain their Methodist faith and practices. Bishop Valencia sent Spottswood, who could travel quickly from place to place in his plane, to organize the "lost tribes" of Ilocano Methodists.
In 1952, he started to direct the extensive evangelism campaign of building the Methodist church in Mindanao with the aid of his plane that he flew all over the province. At that time Mindanao was undeveloped. Roads were limited and hardly passable. People traveled by water, using rivers as highways. But the "flying parson" was not hindered by these obstacles. He landed in ricefields hurredly cleared by people, by the river banks, and on highways. He always brought out the townspeople who would watch his bold maneuvers and light bonfires and torch lights to guide his landing when darkness caught up with his flight.
During the first session of the Mindanao Annual Conference in 1955, thirty-five congregations constituted the roll, many of which were organized under Spotty's leadership. Spottswood also founded and developed a rural center in Kidapawan, now named Spottswood Methodist Center in his honor.
Taken from Methodism in the Philippines: A Century of Faith and Vision, ed. by Bishop Jose Gamboa, Jr., Gamaliel T. de Armas, Jr., Roela Victoria Rivera, and Sharon Paz C. Hechanova. (Manila: Philippines Central Conference of The United Methodist Church, 2003).