Pioneering Missionary to Mongolia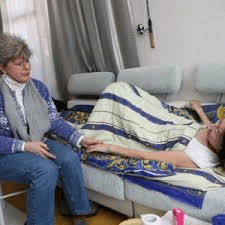 Helen Sheperd was a Global Ministries missionary nurse from 1992 to 2015, specializing in hospice ministries, first in Korea, and from 2002 through her retirement in Ulaanbaatar, Mongolia, where she also founded the Mongolia Mission Initiative that developed into a network of congregations and social programs.
A native of Ann Arbor, Michigan, Helen earned her diploma in nursing from Bronson Methodist Hospital School of Nursing in Kalamazoo, Michigan; a Bachelor of Arts degree in psychology from Park College in Parkville, Missouri; and an Master of Science degree in social gerontology from Central Missouri State University in Warrensburg, Missouri. Bronson existed as a hospital and nursing school of the Michigan Conference of the Methodist Episcopal Church from 1919 to 1999 when it was succeeded by the Bronson School of Nursing of Western Michigan University. From her student days, Helen maintained close ties with United Methodist congregations in Missouri.
Prior to her assignment to Mongolia, Helen served in Seoul, South Korea, as director from 1992 to 2001 of Severance Hospice (home-care program), a project of Yonsei University College of Nursing, a school with mission roots. The university, formed in the 1950s by merger of earlier institutions, is today related to the Methodist Church of Korea.
Helen worked in hospice home care, psychiatric nursing, and at a children's home prior to her commissioning as a Global Ministries missionary.
In 2002, Helen was transferred to Mongolia to start a hospice movement there. Grace Hospice, its staff and volunteers, notably provides care for members of the Ulaanbaatar community living with advanced cancer. She managed day-to-day operations and performed patient visits in coordination with a student nurse practicum program at a local nursing school.
In addition to launching and administering Grace Hospice, Helen established a United Methodist and Global Ministries presence in Mongolia, obtaining property for a mission center and helping to organize congregations. She taught preschoolers on Sunday morning, led a weekly Bible study in English for young women, and worked with two senior citizen groups. She felt that teaching children while working with the elderly and dying was important to maintain a healthy balance in her life.
"Serving in Mongolia was an exciting, challenging assignment, fostering relationships and allowing for relationships and evangelism to be possible through providing healthcare," Helen once said. "I thank God for providing these experiences."
Helen Sheperd retired from missionary service on June 30, 2015, having spent her last several months in Mongolia helping to equip others—indigenous United Methodists and missionaries—to carry on and expand the work.
By Elliott Wright. Elliott Wright is information consultant for Global Ministries.