Having a place to hang out with good friends in a supportive community that provides fun and creative activities is a universal best practice for helping youth find meaning and purpose. Global Ministries' Global Health unit takes a keen interest in partnering with organizations that help children and youth maintain good health and avoid the temptations that unhealthy environments foster.
The Shade and Fresh Water project (Advance #11580A), a ministry of the Methodist Church in Brazil, has provided afterschool programming for children for more than 18 years. Across the country through churches in over 50 locations, Shade and Fresh Water reaches 2,570 children and youth. "Our mission is to form a large Methodist network of support and protection for children and adolescents," the mission asserts. Brazilian Methodists support this mission ministry with more than 2,000 volunteers from their congregations and the communities they serve.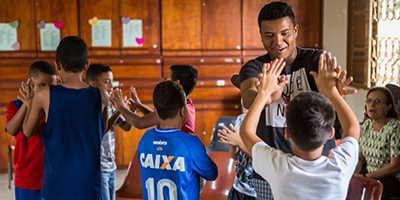 Vinicius Guimarães dos Santos, an educator with Shade and Fresh Water, plays a game with some of the students at the Liberdade site in Brazil. Teca Greathouse is far right in the background. Photo: Mark Greathouse.
Partnering with Global Health in 2019-2020, Shade and Fresh Water plans to improve a project in the Northeast Region (Methodist Conference) of Brazil and another in Rio de Janeiro, increasing the consistency and quality of the programming and contributing to positive development opportunities for youth in Brazil's poorest communities.
Over the past two years, Shade and Fresh Water has scaled up its services to include programs for youth ages 15-18. This new level of programming, in partnership with Global Health, provides healthy alternatives for older teens as they try to discern who they are and what they want to do with their lives.
Vinicius Guimarães dos Santos started attending Shade and Fresh Water when he was 6 years old. His mother searched for a place that could keep her son safe after school while she and his father were still at work.
Music was what attracted dos Santos to the afterschool program. But once he was there, he says he learned discipline and self-esteem too. His talent and hard work eventually earned him the opportunity to represent Shade and Fresh Water with a group of children that traveled to the U.S. to perform at the Virginia Annual Conference. Dos Santos had never traveled in an airplane and was overwhelmed by the way he was received.
Until recently, children aged out of Shade and Fresh Water when they turned 15, but dos Santos stayed on as a volunteer. Eventually, he received a scholarship to study the flute. Today at age 23, he works as an educator with the program and is involved in the expansion to reach older teens. "Kids need programs that support them and help them discover who they are," says dos Santos. "Without that, many get lost and people lead them in the wrong way."
Dos Santos feels that music teaches youth confidence and pride in themselves. "Kids often get involved in drugs because it makes them think they are the big guys on their street. But music is a better alternative. They can feel pride without the drugs."
excerpt from a story by Christie R. House, senior writer/editor for Global Ministries
The Advance is the accountable, designated-giving arm of The United Methodist Church. The Advance invites contributors to designate support for projects related to the General Board of Global Ministries. Individuals, local churches, organizations, districts and annual conferences may donate to The Advance. One hundred percent of every gift to The Advance goes to the project selected by the giver. Gifts to missionaries support the entire missionary community.