"When I was a child, I had big dreams. I wanted to go to university, play saxophone, and help poor people. I thought I would become a great engineer but our resources were modest and my father died when I was six years old," said Serge Pacome.
"My mother was a strong woman of faith. She would never let me miss Sunday worship or regular school even when I complained that I didn't have new shoes or clothes to wear. Our faith in God-shaped our lives. Although the resources were limited I had great self-confidence and my ambition was to always be better," continued Pacome.
After completing his undergraduate engineering degree, Pacome worked for the Voice of Hope Radio in Côte d'Ivoire for 10 years.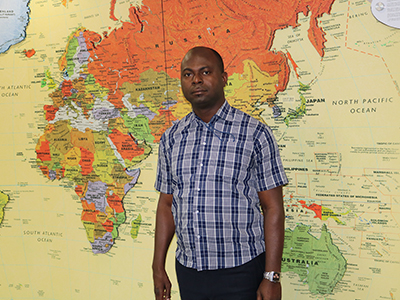 Courtesy photo.
"I helped the station improve its broadcast and its program to influence people through evangelism. I also lead the rehabilitation project of the Methodist Radio in Liberia. The Liberian station is working well now and is making a great impact in Liberia," explained Pacome.
Still, Pacome wanted to be "better." As he began looking for ways to enhance his technology, radio, and television skills, he decided to further his education with a master's degree in telecommunication and audiovisual technology management. There was one hurdle: he needed money to support his education.
"I heard about the World Communion Sunday Leadership Scholarship from a General Board of Global Ministries' missionary serving in Côte d'Ivoire, said Pacome. He enrolled at ISTC Polytechnique, in Cocody-Abidjan, Côte d'Ivoire.
Your gifts on World Communion Sunday, supports the Ethnic Scholarship which enables The United Methodist Church to equip gifted, qualified students from around the globe to become the world changers God created them to be.
"The scholarship is allowing me to realize a dream," explained Pacome. "After I received my engineering degree, I was looking for a way to use and deepen my technology, radio, and television skills. Now that I have received the scholarship, I am even more committed to sharing my skills for projects in my field. I hope the church continues to support the World Communion Sunday scholarship program because it's a great opportunity for the church to build capacity to transform the world." said Pacome.
"After I complete the theoretical training, I will do an internship in my field before I present my thesis. I want to help people around the world use the communications tools and technology to share the word of God," Pacome said.
Elsie Cunningham, freelance writer, UMCom retiree, now living in Jamaica
One of six churchwide Special Sundays with offerings of The United Methodist Church, World Communion Sunday calls the church to reach out to all people and model diversity among God's children. This special offering provides World Communion Leadership Scholarships, the Ethnic Scholarship Program, and the Ethnic In-Service Training Program.
Thank you for your generous gifts to World Communion Sunday offering. Give Now!