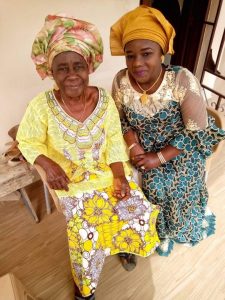 Gracious Host and Teacher to Missionary Community
There she was – a petite woman decked out in a colorful African wrapper, T-shirt, head scarf and smile.
As we stepped out of the mission airplane onto the dry, brittle grass covering the dusty village airfield, she stepped up and welcomed us "home". Saratu DanMallam lived across the sandy road from the hanger that housed the Cessna 206 six-seater airplane named Bishara ("Good News") that my husband flew in Nigeria between 1979 and 1988. Our job during those years was to help the Nigerian church stay connected as the Benue River divided the church area in two. During the 6 months of rainy season, the river flooded for miles in every direction which made it very difficult for people and supplies to get from one side of the church area to the other.
Back in the 1920's, Bambur was the site of an Evangelical United Brethren mission station which hosted a mission hospital and a Bible School. By the time we arrived, the hospital was in the process of being nationalized and the missionary medical staff was leaving as new Nigerian staff was coming in. For a newly married and newly arrived foreigner, Bambur was a whole new world, but one with hardly a missionary in sight to provide help, orientation and perspective. Because of the closeness of Mama Saratu's house to the airfield, we saw her quite often. Even though English is the national language for Nigeria, the Bambur locals generally preferred Hausa, the trade language for the northern part of the country. We worked hard to pick up Hausa, but language learning wasn't one of our best gifts. Our formal Hausa lessons give us enough vocabulary to get us started, but Saratu was the one who worked patiently with me to help me use it fluently. When talking with her, Saratu would use the simplest Hausa words, but if she needed to use one she thought we didn't know she would ask, "Do you know this word?" If I said that I didn't, she would find a way to explain it to me with a simple explanation, hand motions or an appeal to her children for the word in English. Although I didn't realize it at the time, her children became part of my language lessons as she spoke about Kefas, Joel, Lois, Gladys or A'i. Oftentimes they were around to chat, help or laugh with us.
After a few years, my husband and I finally started a family. Not being much of a baby person myself and not having babysat much, raising a child didn't come naturally. I saw how easily the women around me seemed to care for their children – they were all quite relaxed and easy-going since they had learned how to carry and care for their younger brothers and sisters from a quite early age. So, once again Saratu came to my rescue. She babysat for me when I got tired of sitting at home or frustrated with my misbehaving children. Saratu would just love on them and laugh with them and even discipline them as needed as she taught me by example about how to be a good mom. Very quickly she changed from Mama Saratu to Kaka Saratu as our little girls counted her as their very own grandmother. She taught them important things like how to use the outdoor bathroom and how to wash hands using very little water (water was often scarce during the dry season). Oh, she was patient! Her youngest daughter, little A'I, played with our girls and helped keep an eye on them.
Kaka Saratu became the sole provider for peanut butter for the local missionary community, United Methodist and otherwise. Nigeria was known for its prolific production of peanuts and Saratu knew how to make the very best peanut butter. She would buy the peanuts raw, soak them in salt water, and let them dry in the hot sun. Then she would gather sticks together and make a hot fire in her outdoor kitchen in order to heat a large oval headpan full of sand. Once the sand was nice and hot, she poured in the peanuts and stirred and stirred until both she and the peanuts were roasted to perfection. After removing the paper skins by hand, the peanuts were ground on a well-worn grinding stone and out came the best peanut butter in the world. Saratu sold it by the gallon in old powdered milk tins, which often found their way onto the plane to be flown to the big city for distribution among the expatriate community. In her own loving, caring way, she taught me each step of the peanut butter making process including how to grind the peanuts on her grinding stone. It was hard and arduous work, yet she counted it all as a labor of love.
If there was one thing Saratu made better than peanut butter, it was the local tuwo da miya (pounded yam and sauce) dish which we ate whenever possible. She had a way of cooking the toughest of meats that made them tenderer and tastier than anything that came out of a missionary's pressure cooker. There was nothing resembling a restaurant in the Bambur area, so Saratu's little place was the haven where we could go for food I didn't have to fix – a luxury of the highest order.
Fast forward to 2019 and Saratu's youngest daughter A'i is now the Coordinator for the Maternal Neonatal Child Health Care Unit, a sponsored project of the Global Ministries Global Health Program for the Nigerian UMC. Wow, what a long way she has come – incredibly impressive, yet not surprising considering the stock she came from.
Kaka Saratu accepted us as her own and loved us as she loved her own children. She suffered loss with grace, lived out her faith by everyday example, ministered to me in love, and was the most patient of teachers. In my thinking, she was the perfect missionary to this very imperfect one.
Blessings dear Saratu!
This story submitted by Gail Quigg.