For nearly two years, Edwina "Wendy" Kent came to the Open Hearts Food Pantry at Rupert United Methodist Church to keep her own pantry stocked and her stomach full.
Having called this small town in Idaho's Magic Valley home for nearly 14 years, Kent found herself needing more support in September when she found herself in a little bit of trouble with the law. Little did she know the Rupert Food Pantry would be her saving grace.
"I liked the people at the church, and I like to see the families who come in," said Kent.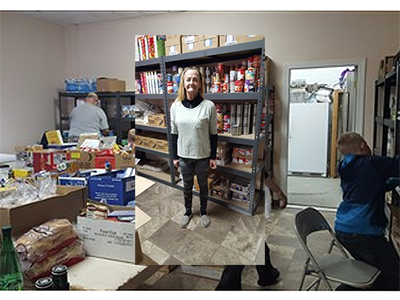 Edwina "Wendy" Kent poses in front of shelves housing food distributed by the Rupert Food Pantry. Courtesy photo.
Ordered to serve 100 hours of community service for a non-violent crime, Kent said she chose to serve her hours in the food pantry. The 58-year-old describes herself as sort of a "homebody" but her trips to the food pantry were her means getting out for social interaction.
"I just couldn't think of anywhere else to volunteer," Kent said. I've only got 24 hours left to go, but I plan to keep on going as long as my physical strength keeps going."
Cheryl Juntunen, one of the food pantry coordinators, said they have about 12 steady volunteers for the pantry, which is open Mondays and Wednesdays from 11 to 1 p.m. She and Kent have connected over the years.
"She's really loyal to us," Juntunen said. "She's smart and she's tough."
A retired a public health nurse and later Director of a Public Health District in Idaho, Junten now leads Rupert UMC's Abundant Health Ministry Team and serves on the Oregon-Idaho Annual Conference Abundant Health Team.
For 25 years, Rupert UMC has been distributing food to people in need in the community and but [GN3] started its food pantry program with support from the Idaho Food Bank four years ago. After distributing flyers, within a few months they quadrupled the number of people they serve each month.
Right now, the pantry provides food for 150 households or 500 people per month in a town of approximately 5,800 people.
Kent has had her share of troubles in life, but two months ago she started attending the church. She and her husband were recently wed there. She is a recovering addict and said Rupert UMC, via the food pantry, has done more than just put food in her stomach and work off her community service.
"In Narcotics Anonymous they say you need to find a higher power and I think I've found mine, she said."
According to Oregon-Idaho Conference Abundant Health Coordinator, Marshall Wattman-Turner, Rupert's Open Hearts Pantry makes the love of neighbor come to life in real and tangible ways in their community. It's a wonderful example of the kinds of collaborative ministries the Oregon Idaho Abundant Health team celebrates and cultivates in congregations throughout our Conference.
excerpt from a story by Kristen Caldwell, Oregon Idaho Ann Conference
One of seven apportioned giving opportunities of The United Methodist Church, the World Service Fund is the financial lifeline to a long list of Christian mission and ministry throughout the denomination. Through the Four Areas of Focus churches are Engaging in ministry with the poor with their communities in ways that are transformative.