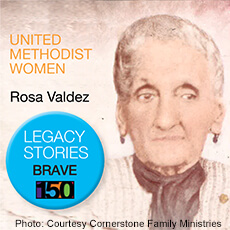 Rosa Valdez was a brave Hispanic woman moved by the plight of immigrant children arriving in her hometown of Tampa, Florida, in the late 19th century when segregation was the law of the land.
The children were banned from public schools, so Ms. Valdez used her own funds and, with help from benefactors, established a small school for the children in west Tampa.
At the same time, Eliza Wolff, who wintered in Tampa, was urging the Woman's Home Missionary Society of the Methodist Episcopal Church South to form a mission school for immigrants living in east Tampa.
The small mission begun as a result of the determination of these two women grew and adapted to the community's changing needs over the years. Today, it is called Cornerstone Family Ministries, a United Methodist Women-related national mission institution in Tampa.