Jackson Rogers, whose home church is New Paltz (New York) United Methodist Church, is an #amazingUMChero.
Jackson Rogers wasn't in the market for a new bike when he felt drawn to stop by a bicycle shop. But one look at the shiny chrome tricycle designed for adults, and he found himself purchasing it for Donna, a Florida woman whose home sustained significant damage during Hurricane Irma.
"She had been so heartbroken and downtrodden," Rogers says of his conversations with Donna while he and others on the mission team worked in the area.
The Rev. Wendy Vencuss, also part of the team, was talking with Donna one day about attending church, but the woman explained she didn't own a car and no longer felt safe riding her bicycle.
"What I need is a tricycle," Donna said, laughing.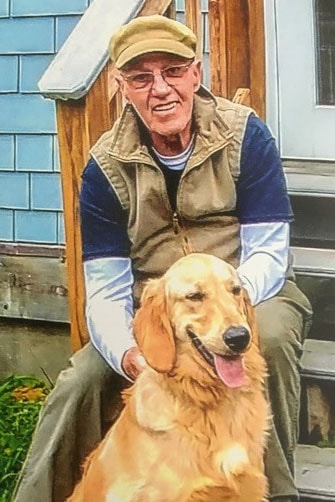 Jackson Rogers plans to train his dog, Jake, to become a therapy dog. Photo courtesy of Jackson Rogers.
After leaving, Rogers and Vencuss unexpectedly passed a bike shop and, then, just as unexpectedly, found themselves stopping to browse.
"As soon as I saw it," Rogers says, "I knew I was going to get the bike for her."
The next day, they surprised Donna with the present. When Donna stepped outside, Rogers was riding the tricycle down the road toward her.
"When I saw her light up, I was so moved that I didn't know what to say, so I just started singing," he says, remembering that he sang multiple rounds of the "Happy Birthday Song."
Donna isn't the only one who received a gift that day. Giving Donna her independence back was also a gift to Rogers, who had never before considered that he could offer hope and encouragement and bring a smile to someone's face.
"I felt so good about it …," he said. "It makes me want to do more."
For much of his life, Rogers has felt like an extraneous piece in life's big puzzle, a veritable reject. No matter where he turned up, he never seemed to fit.
But after decades of being perceived as a misfit by many, he has found his place — and his purpose. And his faith in God, which had been trampled and left for dead, is showing remarkable signs of life.
Rogers, who turned 71 in August, has become inspired by and involved in missionary work. Through his church, New Paltz (New York) United Methodist Church and the New York Annual Conference, he's using his skills to help renovate homes from Poughkeepsie to Puerto Rico.
Vencuss has seen Rogers' transformation firsthand.
"Jackson is very skilled at construction and he's using his gifts in that way," Vencuss says. "But it was really his experience of helping others, connecting with others and hearing their pain, that changed him."
Born in 1947 on a cotton farm in rural Mississippi, Rogers experienced hardships by the bushel. A speech impediment left him scarred — emotionally and physically.
"When I was younger, I stuttered really badly," Rogers says. "I couldn't talk most of the time. I couldn't even say my name or anything."
Life on the farm was a struggle: no indoor plumbing, no electricity. But after his uncles found his father a job in affluent Greenwich, Connecticut, he became the target of taunts by a whole new class of students, and even teachers. "I was unwanted, I was unaccepted," Rogers says.
Sadly, it would get worse after the family moved to New York City. "I spent all of my early years being bullied and beat up at school," he says.
In 1966, he joined the military. Though not stationed in Vietnam, he flew there often while serving as an aircraft mechanic. By 22, he returned home more disillusioned and defeated than ever.
Eight years later, Rogers landed a job with the New York City Fire Department and experienced something he'd never felt before: the slightest tinge of pride.
"I was proud of what I was doing," Rogers says. "And whenever I told someone I was a South Bronx firefighter, it was like 'Really! Wow.'"
He married a nurse as his career as a firefighter took shape, but in 1985, the couple's 6-month-old son died. Rogers spent several months by his son's hospital bedside fretting through five surgeries.
Rogers says, "It was so painful for me. There's nothing that I was able to do."
Rogers' lifetime of pain resulted in him feeling inadequate and apathetic about God, beliefs that began changing a few years back thanks to a visit from some men doing missionary work in the Hudson Valley area. Meeting them led him to connect to a nearby United Methodist church, where Rogers put his experiences as a skilled carpenter and craftsman to work.
"I loved this idea about helping people," says Rogers. In addition to helping with victims of Hurricane Irma in Florida, he has used his carpentry skills during a 2017 mission trip to storm-battered Puerto Rico, and just this summer returned to the island for continued Hurricane Maria relief work where he replaced a roof on a house.
Closer to home, he's involved in his church's Done in a Day project in which church members spend a day working on someone's house. He's also looking forward to training his dog, Jake, to become a therapy dog.
For Rogers, life's puzzle all makes sense now, and he sees how he's a part of it.
"Service work is what brought me back to the church," says Rogers. "It all comes back to you 100 percent if you (help others), and it's coming back to me now, all of these years later. It's good for my soul."
Read about more #AmazingUMCHeroes.
*Craig Flagg is a freelance writer in Nashville, Tennessee; Crystal Caviness is a senior public relations specialist for United Methodist Communications in Nashville, Tennessee. Media contact at United Methodist Communications is Crystal Caviness at 615-742-5138.