Early Proponent of the Deaconess Movement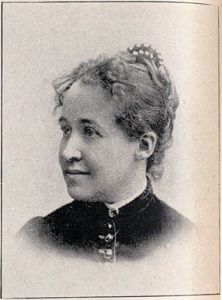 Taken from A Woman of the Century: Fourteen hundred-seventy biographical sketches accompanied by portraits of leading American women in all walks of life by Frances Willard and Mary Livermore
Jane Bancroft Robinson, daughter of a Methodist minister, studied in the United States, Switzerland, and France, earning many degrees, including a Ph.D. She was professor of French Literature and Language at Northwestern University and dean of its Woman's College from 1878 to 1885. She married George O. Robinson in 1891.
While studying in Europe, Jane Bancroft become interested in the deaconess movement and her research in this area contributed greatly to the establishment of the deaconess movement in America. She chaired the first Committee on Deaconess Work established by the Women's Home Missionary Society. She later published a book entitle Deaconesses in Europe and Their Lessons for America.
An articulate speaker, Jane's presentations on behalf of the deaconess work encouraged William J. Sibley to provide funds for a hospital (1894) to be erected in connection with the Lucy Webb Hayes Training School, which was founded by the WHMS in 1890. Through Mrs. Robinson's encouragement, the George O. Robinson School in Puerto Rico was begun. She was an alternate delegate to the 1932 General Conference from the Southern California Conference. When Jane Bancroft Robinson died, her home at Pasadena, California, was given to the church as a home for retired missionaries. It was named "Robincroft."
Taken from They Went Out Not Knowing… An Encyclopedia of One Hundred Women in Mission (New York: Women's Division of the General Board of Global Ministries, The United Methodist Church, 1986). Used with permission of United Methodist Women.