"Do you have anybody who could come and visit with my wife?"
Tracy Keibler recalls a man asking her that question. He was the primary caregiver for his wife, who had dementia, and he needed a break. Keibler unfortunately didn't know of anyone other than a paid professional, which she recognized was cost-prohibitive for some families.
"I realized this was a perfect opportunity for someone from church," said Keibler, a longtime member of Normandale Hylands UMC in Bloomington.
Normandale United Methodist Church is a part of the Minnesota Annual Conference.
Through the nonprofit she founded, START Senior Solutions, "Senior Transition Advocacy Resource Team," (formerly ApparentPlan), Keibler now offers Respite Friends, a free training program that helps family, friends, and members of groups—particularly churches—to safely and comfortably serve as short-term companion visitors who can support primary caregivers.
During a two-hour training session, volunteers learn basic caregiving skills and how to develop a relationship with someone living with dementia. For example, people with dementia typically lose part of their field of vision so it's important to be where they can see you (or make eye contact); participants also learn to use visual cues to enhance comprehension and connection, said Keibler.
Keibler is confident that if trainees practice and use the skills they learn through the training, they will be better equipped than more than 90 percent of professionals who are hired to provide companion care.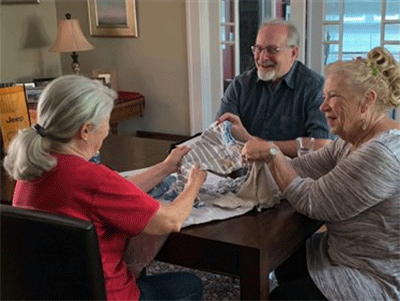 Courtesy Photo.
START conducts background checks on everyone who goes through the training program and is insured for all volunteers trained through the nonprofit.
The need for companion caregivers is great. The Alzheimer's Association estimates that 120,000 Minnesotans 65 and older will be living with dementia by 2025—and Keibler said even larger churches have trouble finding volunteers. She is especially eager to equip church members so that when a pastor or parish nurse hears about a primary caregiver who needs help, they have someone to call on for assistance. Although the training has typically been done in-person, she said virtual gatherings are definitely possible.
START provides a variety of other services as well—all at no cost to clients. Its elder advocates help seniors and caregivers manage crises and navigate the challenges of aging. In the past 10 years, Keibler has helped her clients access well over $1 million worth of public and private benefits at no cost to them. She has worked with families to find care facilities and mediated meetings in difficult situations in which family members disagreed about the most appropriate care.
START has expanded in recent years with the help of a state grant. Its advocacy staff now includes a gerontologist, a long-term care ombudsman, a dementia consultant, and a nurse. A second state grant recently awarded will add two more ombudsmen and a social worker to the nonprofit. Ombudsmen are well-versed in state laws and regulations that impact seniors, as well as care facilities and patient rights. They help families with everything from insurance challenges to quality of care issues.
As a person of faith, Keibler would love to see more dementia-friendly worship services, and she'd welcome the opportunity to have a conversation with church leaders wanting to figure out how to provide them. What would such a service look like? For starters, it would have a simple message, well-known hymns, and plenty of opportunities for connection and physical touch—like hugs and shaking hands, she said.
Keibler knows God has called her to ministry with older adults, and it's a privilege to walk alongside them and help them age with dignity.
excerpt from a story by Christa Meland, director of communications, Minnesota Annual Conference of the United Methodist Church.
This story represents how United Methodist local churches through their Annual Conferences are living as Vital Congregations. A vital congregation is the body of Christ making and engaging disciples for the transformation of the world. Vital congregations are shaped by and witnessed through four focus areas: calling and shaping principled Christian leaders; creating and sustaining new places for new people; ministries with poor people and communities; and abundant health for all.