Preachers' kids – especially United Methodist ones – become accustomed to moving often, but it's not always easy, Emma Allen admitted.
"I had a pretty normal childhood," she said. "I did move a lot until I was 11 because my dad was a United Methodist pastor in Kentucky. One challenge was moving about every three years and having to change schools and leave my friends."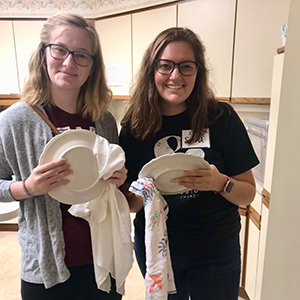 Emma Allen (left) and friend drying dishes. Courtesy photo.
Emma grew up in a two-parent household with one older sister. Her dad served local churches as a pastor until she was 8. "After that," she recalled, "he became a professor of religion and philosophy. My mother is an administrator at a United Methodist college in my hometown, Mitchell, South Dakota.
"One joy of my life has been the amazing trips I have taken with my family, including a pilgrimage to Israel, and all the memories I made with my family on those trips."
In Mitchell, Emma attends Fusion Church, and while attending Concordia College in Moorhead, Minnesota, she worships at Ignite Church.
"All of the people in the church," she said, "have been very supportive of my choice to pursue a degree in neuroscience and then go to medical school. I have even shadowed some doctors from my church."
Emma said that receiving a Gift of Hope Scholarship, supported by the United Methodist Student Day Sunday offering, was "a huge relief. This scholarship has helped me not to worry so much about paying for college."
The next big step for Emma is taking the Medical College Admissions Test. "My school," she said, "is doing a great job to prepare me to take the MCAT and go on to medical school. My professors are always connecting things we're learning to jobs we will have in the future, or how questions similar to the ones we're doing will show up on the post-grad entrance exams."
Emma dreams of combining her love of traveling with service to others.
"As a doctor," she said, "I hope to go on medical mission trips to serve medically underserved areas."
Barbara Dunlap-Berg, freelance writer and editor, retired from United Methodist Communications

One of six churchwide Special Sundays with offerings of The United Methodist Church, United Methodist Student Day calls the church to support students as they prepare for life in uniting faith with knowledge. The special offering provides scholarships for qualified United Methodist applicants.
When you give generously on United Methodist Student Day, you support students as they prepare for life in uniting faith with knowledge. Give now.