MECS Mission Board Leader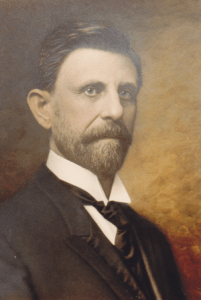 W. W. Pinson, from Travis Park UMC
W.W. Pinson was born in Cheathan County, Tennessee, in 1854. He joined the Tennessee Conference in 1878. After serving pastorates in Tennessee with great success, he transferred to the Texas Conference to serve pastorates in Gonzales and Austin. Just before the turn of the century, he went to the largest church in the West Texas Conference, Travis Park in San Antonia. In this role, he was a founder of the Methodist Mission Home in San Antonio.
Successful ministers often changed conferences, and Pinson was clearly a man of promise. The bishops appointed him to a church in Columbus, Georgia, and then moved him to Louisville, Kentucky.
In 1906, the General Conference elected him to be Walter Lambuth's associate in leadership of the Board of Missions. Four years later, when Lambuth became a bishop, Pinson moved up to overall leadership of the board. He served the post in its various manifestations through 1926. In 1916, he envisioned a massive centennial observance in honor of the founding of the first Methodist missionary society in New York City in 1819. From this initiative came the great Centenary Campaign in the Northern and Southern churches.
After 1926, Pinson served as editor of missionary literature for the Sunday School Board for a quadrennium. He died in 1930. He was the author of several books on missions and missionaries, including a biography of Walter R. Lambuth.
Taken from Robert W. Sledge, "Five Dollars and Myself": The History of Mission of the Methodist Episcopal Church, South, 1845-1939. (New York: General Board of Global Ministries, The United Methodist Church, 2005), p. 306.