Meg Carter has "never decorated cookies before," and she doesn't consider herself to be a great cook.
Yet, she and a small band of volunteers wrapped up the baking and decorating of 2,200 cookies they planned to sell at a Texas peach festival attracting as many as 60,000 people on July 10.
"It almost didn't happen because I almost gave up," said Meg.
The cookie sales were desperately needed to pay for a new air conditioner and children's ministry materials at Calvary United Methodist Church in Weatherford, Texas. Meg is a participant in a new faith community (Grace Meadow Fellowship) that has recently grown the church from about three to 20 worshippers.
Located near Calvary in the same town, Couts United Methodist is a much larger church that has the market on homemade peach ice cream at the Parker County Peach Festival. Weatherford is 30 miles west of Ft. Worth, Texas.
"Couts sells about 8,000 servings of ice cream each year, netting about $20,000," says the Rev. Clint Jones, pastor at both Couts (as associate) and Calvary. Couts sold $15,000 worth of ice cream at the festival!
When the air conditioner recently gave up the ghost at Calvary, Meg went on a quest to develop a cookie that could make an impression among the peach ice cream, beer, pies, popcorn, cupcakes, ribs and other food fantasies sold at the Parker County Peach Festival.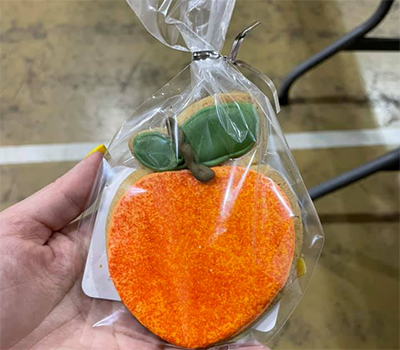 Individually wrapped cookie for the peach festival. Courtesy photo.
"I underestimated how much time it would take," says Meg, who used vacation time to invest 150 hours in creating the peachy keen treats. The peach taste is in the icing. "I did 80 percent of the icing and wore my elbow out."
Meg, Pastor Clint and a dozen others of all ages joined the effort, often working until 1 a.m. in the kitchen and fellowship hall at Couts United Methodist.
The cookie challenges included finding the "right consistency and color" for the icing and developing a process that could be duplicated and taught to helpers.
"The first 500 cookies looked kind of rough," said Meg, who discovered that adding red, pink and yellow sugar crystals to the cookies not only looked and tasted good, it also hid imperfections.
"Even if we go in the hole, it was worth it," said Meg. She hopes to raise $2,000 to $3,000 during the festival's eight-hour span. The cookies, which include some simpler round "sunset cookies," will cost $2 to $3 each.
The bake sale was a success in that they sold 2,100 of the 2,200 cookies including some after the festival for the air conditioner.
Both the pastor and the cookie-creator realized, in the midst of dough-rolling and sugar-sprinkling, that the community they built in the kitchen was the best fruit of all.
"I feel like we invested in the church's future," Meg said. "The time spent together, the quality of relationship-building — this project gave us space for that."
And "literally hundreds of people" received invitations to church.
excerpt from a story by Annette Spence, Holston Annual Conference
This story represents how United Methodist local churches through their Annual Conferences are living as Vital Congregations. A vital congregation is the body of Christ making and engaging disciples for the transformation of the world. Vital congregations are shaped by and witnessed through four focus areas: calling and shaping principled Christian leaders; creating and sustaining new places for new people; ministries with poor people and communities; and abundant health for all.