Late in the day on March 2, 2020, and into the early morning hours of March 3, deadly tornadoes cut through Middle Tennessee killing 25 people and injuring more 300 others. More than 70,000 people lost power and more than 3,500 buildings were damaged or destroyed.
In true volunteer fashion, response from a myriad of agencies and groups was swift…until COVID showed up. Suddenly media focus shifted and new pandemic-related priorities and precautions were established. Federal and local agencies, such as FEMA and the American Red Cross, suddenly faced the difficult decisions of shuttering their tornado relief efforts due to the hazards of the rapidly spreading pandemic and stay-at-home mandates set by city and county officials.
Large tornado clean-up projects were halted. Tornado-relief volunteers pivoted to help meet critical coronavirus-related needs in the community such as distributing food to hungry families whose children were no longer in school, supporting healthcare professionals in COVID assessment centers, and making and distributing much-needed face masks.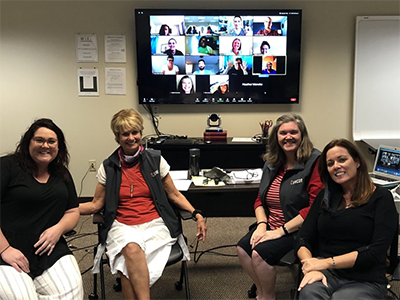 A break during the remote training of Tornado Recovery Connection case managers. Courtesy Photo.
Yet in spite of the dual disasters and multiple diversions, one group emerged and has remained steadfast and operational in its mission to help Middle Tennessee tornado survivors rebuild their lives: the Tornado Recovery Connection (TRC). In partnership with the Tennessee Annual Conference and trained by two UMCOR consultants, TRC disaster case managers help survivors navigate the home repair process, replace lost household goods, appliances and furniture, offer mortgage and rental assistance, organize debris removal, and provide resources for mental health, food, insurance mediation, and legal assistance.
After training, disaster case managers initially responded by gathering information from survivors and providing referrals to community organizations to help meet immediate needs. A helpline was created for survivors to call. In addition, TRC staff received survivors' information from county agencies and the American Red Cross.
While TRC disaster case managers were trying to get the word out about themselves to tornado survivors, challenges and obstacles were mounting. At the same time the disaster case managers were contacting and assisting survivors, other less-scrupulous people were running insurance and home repair scams. Many survivors fell victim to their schemes. Knowing who to trust became difficult. TRC Disaster Case Manager Heather Marriott remembers scam contractors walking away with whole insurance checks.
Despite the darkness and hardship, TRC's light shone brightly as disaster case managers persevered in their mission to provide resources for immediate relief as well as identify survivors with long-term needs. Since the group began in March 2020, disaster case managers have assisted or are currently assisting more than 650 individuals and their family members. They've also provided hundreds of referrals to connect survivors with area agencies and resources.
In addition to providing tangible resources, disaster case managers also provide emotional support and a listening ear. TRC Disaster Case Manager the Rev. Marie King remembers making screening calls to clients who didn't need tornado recovery. They just needed someone to talk to at the time.
As TRC disaster case managers continue reaching out to and assisting survivors, a larger issue looms amidst the rubble.
Church groups and individuals interested in helping can visit GIVE TO TN TORNADO 2020. Survivors still needing assistance can call the Tornado Recovery Connection at 615-270-9255 and leave a message.
excerpt from a story by Cindy Solomon, writer and editor, Tennessee Annual Conference
This story represents how United Methodist local churches through their Annual Conferences are living as Vital Congregations. A vital congregation is the body of Christ making and engaging disciples for the transformation of the world. Vital congregations are shaped by and witnessed through four focus areas: calling and shaping principled Christian leaders; creating and sustaining new places for new people; ministries with poor people and communities; and abundant health for all.