Early center of Methodism in Zimbabwe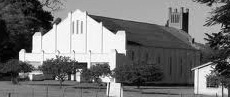 The town of Mutare was originally founded in 1891, but when a proposed railway line from Beira could not be constructed through the site, it was decided to move the settlement to a different location situated on the railway line.
When Cecil Rhodes was asked what he intended to do with the old site, he said, "We will turn it into a Mission." He met Bishop Joseph Crane Hartzell and invited the bishop to speak at the official opening of the railway at Bulawayo. Cecil Rhodes urged him to visit the original site of the settlement with the thought of establishing mission work there. Bishop Hartzell arrived by horse on December 10, 1897.
On December 12, 1897, the bishop conducted a Methodist service in a general store building. There were thirty-five men and five women present. After looking over the old site and the new city, Bishop Hartzell went to London and met with Cecil Rhodes.
On March 21, 1898, an agreement was signed with the British South Africa Company for the establishment of a mission at the old site of the town of Mutare, turning over to the Methodist Episcopal Church eight good buildings and 13,000 acres of land. The official opening of the Old Mutare Mission took place on October 7 and 8, 1899.
When a location was to be chosen for Africa University following the General Conference of 1988, a 600 acre estate adjacent to Old Mutare Mission was chosen, fulfilling the vision of Bishop Hartzell, that children with books would be walking in that valley.
Taken with permission from Heritage Landmarks: A Traveler's Guide to the Most Sacred Places in The United Methodist Church, by the General Commission on Archives and History. For more information, see http://www.gcah.org/research/travelers-guide/old-mutare-mission