"I grew up in a pretty typical suburban family," said Emma Storer, "where many in the community identified with the Christian religion but didn't grow up in the church." Church of the Messiah, Westerville, Ohio, she added, was "where I made the most lifelong and lasting relationships."

Emma credits The United Methodist church with giving her "a secure and strong support system. To have people stand behind you voluntarily can do wonders for your resilience and progress," she said. "The unending love I've received is a special kind that I truly believe has helped me to get where I am today."

An academic mentor and a clergy member of her church told Emma about the Gift of Hope Scholarship, supported by the annual United Methodist Student Day offering.

"Receiving this scholarship," she recalled, "was such a joyful surprise. College is expensive, and everything helps to lessen the burden. It was so meaningful to know that someone out there, a brother or sister in Christ, supported me, regardless of never meeting me face to face. That is a godly act to me, for which I am incredibly fortunate."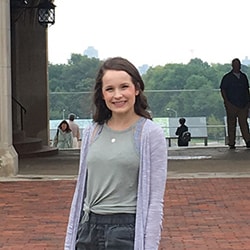 Emma Storer poses on the Washington University campus. Courtesy photo.
When Emma started her college career at Washington University in St. Louis, she and her friends began searching for a church home away from home. She fondly remembers walking into The Gathering for the first time.

"When we first entered," she said, "we knew our search was over. Everyone soaked us in love and genuineness, and now [going there is] my favorite part of the week."
While Emma is unsure of her career path, she knows her church will be behind her every step of the way.

"College is truly giving me one of my first real chances to master my independence and leadership," she said. "Professors here want you to succeed and give you skills to make good in the world, not just on this campus, but also in the community and world around us. Community engagement is highly encouraged, and this is such an important value to take into the future."

At Washington University, Emma serves on the Social Programming Board that organizes school-sanctioned events and promotes school unity and community. She also volunteers with Campus Kitchen to cook for the homeless and Help to Heal, which cares for the children of women in a local domestic-violence shelter. She also hopes to get more involved in the ministries of The Gathering, perhaps through literacy programs or small groups.
Emma is confident about her future.
"I believe all decisions made with God's word and intent are bound to hold great glory," she said. "While I don't know what exactly my career will be, I ask that God will be active in my decision and guide me where he knows is best."
Barbara Dunlap-Berg, freelance writer and editor, retired from UMCom
One of six churchwide Special Sundays with offerings of The United Methodist Church, United Methodist Student Day calls the church to support students as they prepare for life in uniting faith with knowledge. The special offering provides scholarships for qualified United Methodist applicants.
When you give generously on United Methodist Student Day, you support students as they prepare for life in uniting faith with knowledge. Give now.