Oldest Methodist Hospital in the United States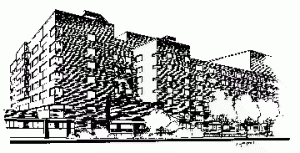 On January 27, 1881, the Methodist Episcopal newspaper, The Christian Advocate, printed a piece by its influential editor, James Monroe Buckley. Buckley had been a church pastor in Connecticut just before his election as editor. The editorial related the unhappy story of the organist at Buckley's former charge. The organist, visiting New York City, was struck by a panicked team of horses and died because there was no adequate hospital care available.
This tragedy spurred Buckley to call for the establishment of a hospital, the first in Methodism. As Buckley wrote, "it is about time the Methodist Episcopal church erected a hospital somewhere in this world."
George I. Seney, son of a Methodist minister, read Buckley's editorial challenge and responded by giving property and cash to launch the hospital in 1881, as a memorial to his father. The hospital was chartered on May 27, 1881. Plans called for nine buildings, and construction on the first three began immediately.
The idea did meet with some criticism from those who believed that the denomination should focus on building churches and preaching the Gospel. However, the late nineteenth century was an era when churches were increasingly involved in social outreach, and support for the hospital came from many quarters.
That support was especially welcome when George Seney suffered financial reversals and other backers were needed. The partially completed buildings were boarded up for several years while the money was raised. Construction began again in the spring of 1887. The first buildings were dedicated on December 15, and the first patient was admitted four days later.
A Training School for Nurses opened in 1888; a children's ward and an outpatient department opened in 1889. Other departments – surgery, obstetrics, a nurses' residents – opened over the next few years, with construction financed by churches, women's groups, and individuals. In 1931, its golden anniversary year, the hospital became a teaching hospital, adding another dimension to its work.
Today, Methodist Hospital is one of the leading medical facilities in the city of New York, and one of over seventy United Methodist hospitals in the continental United States.
Taken with permission from Heritage Landmarks: A Traveler's Guide to the Most Sacred Places in The United Methodist Church, by the General Commission on Archives and History. For more information, see http://gcah.org/research/new-york-presbyterian-brooklyn-methodist-hospital