By the time students end up at Rougher Alternative Academy in Muskogee, Oklahoma, they are near the end of their academic rope.
That was true for Bailee Allen who ran away from home and participated in gang activities in high school.
Helping Bailee and her brother, Blayne, get back on track after difficulties in home and family life was Phillip Barnoski, 43, family and community coordinator at the academy and a member of Fife Indian United Methodist Church. "Bugsy," as he is known, recalls his own troubled childhood filled with chaos related to alcoholism, drugs and violence.
"After attempting suicide five or six times, I knew I wanted to change," said Barnoski. "I found Jesus and a purpose for living while serving in the Marine Corp."
After his discharge, he returned to Muskogee with a mission to help young people.
"I reflect back on my life and I see myself in these young people. I don't want that for them," he said.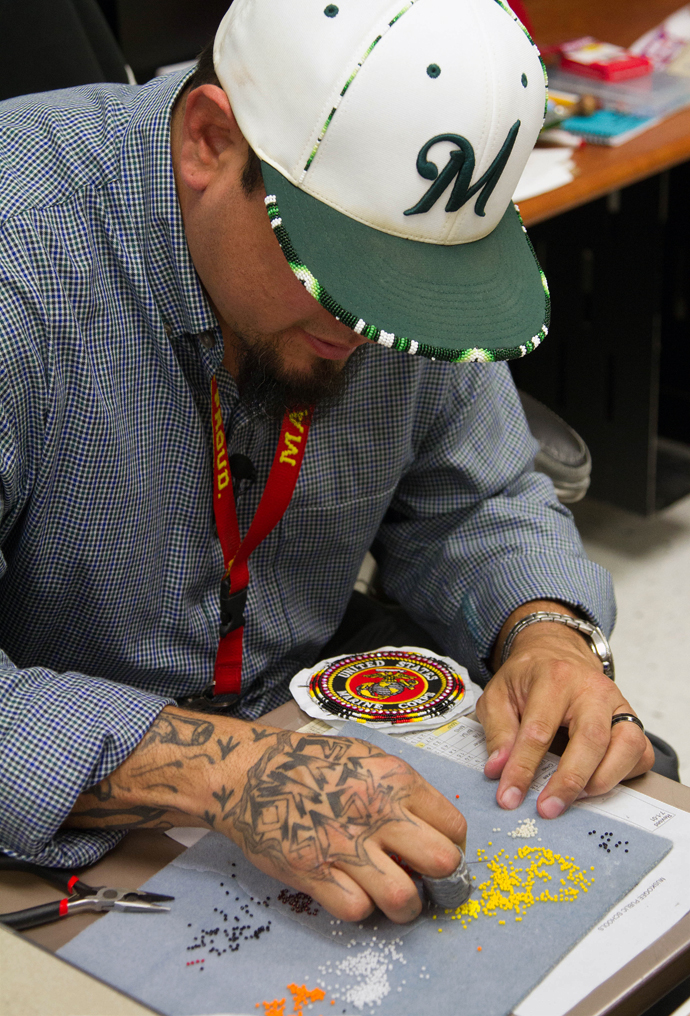 To help the students at Rougher Alternative Academy center their lives, "Bugsy" Barnoski teaches them how to make Native crafts such as beadwork, dream catchers and shawls. He also helps them learn tribal languages. Photo by Ginny Underwood, United Methodist News Service.
Blending his Seminole and Cherokee culture with prayer, Barnoski has created a special place within the walls of the Rougher Alternative Academy. What started out as a meeting with food each Friday has evolved into a daily gathering of students who are seeking a connection and a purpose.
To help the students center their lives, Barnoski is teaching them how to make Native crafts such as beadwork, dream catchers and shawls, and is teaching them tribal languages.
"God has gifted us with so many things and we are a unique people. I want them to know and to be proud to be Indian."
With Barnoski's help and encouragement, Bailee worked concurrently to finish 11th and 12th grades and graduated from the academy on time. Now 19, she is enrolled at the College of the Muscogee Nation in Okmulgee, Oklahoma, where she is studying to be a student services worker.
"Just seeing how Bugsy impacted kids that didn't have much, making them feel happy, making them feel important and equal, made me want to do that," she said of her college field of study.
Blayne, a senior at Sequoyah High School in Tahlequah, Oklahoma, and a lifelong member of Fife, lovingly calls Barnoski "Uncle."
"He has had a huge influence on my life through Christ, showing me that not everyone is perfect and everyone makes mistakes." After high school, Blayne hopes to play college football.
"I come to Bugsy's classroom three or four times a day," said Latorie Armstrong, a 10th grader from the Cheyenne and Arapaho tribe. Truancy caused by anxiety landed her in the alternative school, she said. "Doing art is an outlet for me. It helps me to stay focused and to do what I need to do in school." Her goal is to finish high school and earn a cosmetology certificate.
Nancy White, a 10th grader from the Mississippi Choctaw, Cherokee and Blackfoot tribes, said learning about her culture has made a difference in her life. "It's helped me to understand who I am." Of Barnoski, she said, "I can see the love that he has for us. He's a really good person."
Barnoski's commitment to his students goes beyond the classroom. He makes sure they are fed on the weekends, have transportation, and even a safe place to sleep. Many students go with him to activities at Fife Indian United Methodist Church, a congregation in the denomination's Oklahoma Indian Missionary Conference.
White joined Fife Indian United Methodist earlier this year and credits her involvement there with changing her perspective on life. "I used to be into drinking, and it was bad. That changed when I started going to church."
The Rev. David Wilson, superintendent of the Oklahoma Indian Missionary Conference, said he is excited and amazed at the ways Barnoski relates to young people and how they react to his presence. "He is important to our community. We need more role models like him who take the time and have the energy and love for young people."
"These are good kids who just need a little help," said Barnoski. "They are trying to do away with the negative parts of their lives." He gives credit to his wife, Stefanie, and to God for allowing him to affect the lives of the young people.
"If I can plant a seed, then a life can change through Jesus who is the way, the truth, and the life."
Ginny Underwood is a communication consultant with ties to the Oklahoma Indian Missionary Conference. She is a member of the Comanche Nation of Oklahoma.