Founder of Japanese-American Methodism; missionary to Hawaii and Japan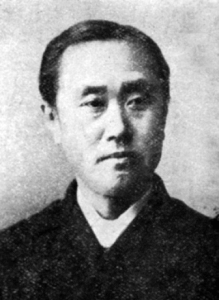 In 1877, when only fifty or sixty Japanese had arrived in San Francisco, Kanichi Miyama and K. Nonaka began to receive Christian instruction from Otis Gibson of the Chinese Mission, and later united with the church. Kanichi Miyama was a native of Japan, born in Choshu Province, was of Jomura rank, and a retainer of the Lord of Choshu. He was about 28 at the time of his conversion.
In 1881, Miyama began preparation for the ministry. He had been instrumental in leading seven of his countrymen to be baptized and unite with the church in the previous year. In 1884, he was admitted on trial to the California Annual Conference, the first Japanese ordained in the U.S., and commenced ministry among Japanese immigrants.
The first company of Japanese immigrants arrived in Hawaii in 1885. Two years later, Japanese Methodists in San Francisco raised among themselves $200 and sent Miyama to investigate conditions among them. He preached his first sermon in Queen Somna's Hall on October 2, and on October 10, organized a Japanese Mutual Aid Society. On July 27, he organized in Honolulu a Methodist Society. Preceding the 1888 session of the California Conference, Miyama was appointed to the Hawaiian Mission, where he "labored with great zeal and effectiveness" before returning to San Francisco in August of 1889.
Two years later, he was transferred to work in the Japan mission, where he conducted a successful ministry there.
Adapted by David W. Scott from Wade Crawford Barclay, History of Methodist Missions, Vol. 3: Widening Horizons, 1845-95. (New York: The Board of Missions of The Methodist Church, 1957), 292-294; and Charles Volney Anthony, Fifty Years of Methodism: A History of the Methodist Episcopal Church Within the Bounds of the California Annual Conference from 1847 to 1897. (San Francisco: Methodist Book Concern, 1901), 398.