Growing up in South Carolina, Lauren Rhodes cherishes her uniquely named town, Ninety Six, population 2,000. "My parents have been married for 30 years," she said. "They raised my two older sisters and me, going to St. Paul United Methodist Church in Ninety Six, SC.
"I had a well-rounded upbringing," she added, "involved in athletics, the arts and academics, as well as my church. My childhood was full of opportunities."
Lauren noted that through her baptism and confirmation and later, as a high schooler joining the church choir, her home church surrounded her with love and support. "Both of my parents served as Sunday school teachers and in various positions in our church," she said, "so, as a child, I spent many weekdays at the church, popping into visit our secretary, a fond memory of mine."
Today, Lauren attends the College of Charleston, South Carolina, preparing for a career in early childhood education. "My church family, as well as The United Methodist Church," she said, "have lent me support through prayers, cards and the annual conference's monetary support."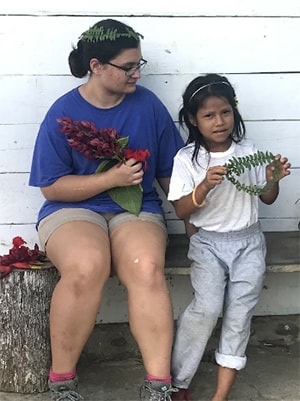 Lauren Rhodes with unknown child during mission to Ecuador. Courtesy photo.
She received a Gift of Hope Scholarship through the United Methodist Student Day Sunday offering.
"The Gift of Hope Scholarship," Lauren said, "allowed me to go to the school of my dreams, which opened the opportunity to become a part of a campus ministry. Through the Wesley Foundation, I have made friends, experienced fellowship and served alongside fellow college students."
She was delighted to go on a mission trip to Ecuador. "We attended a local church on Pentecost Sunday," Lauren recalled. "To attend a service spoken in Spanish, a language that I know but do not fluently speak, on Pentecost added a new level to my understanding."
Lauren encourages United Methodists to give generously on United Methodist Student Day.
"An education is something that no one can take from you," she remarked. "As a future educator, I am an advocate for giving all people access to education. I would hope that the church could see the value in supporting a young adult of faith who is pursuing higher education.
"When a church supports United Methodist Student Day, they support a young person of faith by sending them onto college campuses around the world. This, in turn, sends the light of God into campuses and communities."
The College of Charleston provides opportunities to reach out at home and around the world. "They ask that future educators be active in their communities," Lauren explained, "serving specifically children in local schools. I am part of a program called Teaching Fellows, future educators involved on our campus and in the community through service projects. I am also glad to be a part of the Wesley Foundation's Leadership team."
This involvement builds a strong foundation for Lauren's career and community involvement.
"I plan to be a positive influence in the lives of my students," she said, "by being supportive and compassionate. God will equip me to be a teacher. I plan to lead in Christian example by showing the love of God to my students in the way that I treat them and the way I will expect them to treat each other."
"I plan to continue to be an active member in The United Methodist Church and step into leadership roles as my life becomes a bit more consistent," Lauren said. "I plan to continue to serve as God calls me to do so through mission work."
Barbara Dunlap-Berg, freelance writer and editor, retired from UMCom
One of six churchwide Special Sundays with offerings of The United Methodist Church, United Methodist Student Day calls the church to support students as they prepare for life in uniting faith with knowledge. The special offering provides scholarships for qualified United Methodist applicants.
When you give generously on United Methodist Student Day, you support students as they prepare for life in uniting faith with knowledge. Give now.