Galveston Central Church is so much more than a building with a steeple. This congregation transforms into a bustling kitchen, where members cook alongside the homeless and then sit down together to share a meal. It's also a bicycle repair shop, a laundromat and a shower facility. The coronavirus pandemic may have changed the way the church delivers its services, but nothing could stop the congregation from continuing its mission.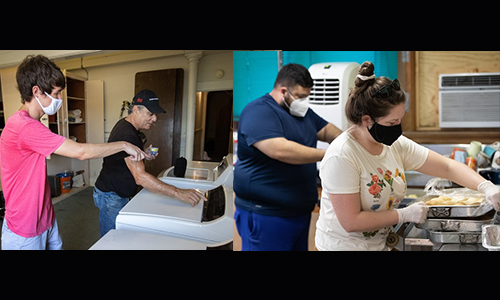 The Rev. Michael Gienger (left) helps Danny Thomas with his laundry at Galveston (Texas) Central Church. Haley Brown (right front) and Christian Catalan of the Gastrochurch ministry prepare a meal in the kitchen at Galveston (Texas) Central Church. Photo by Mike DuBose, UM News.
Galveston Central United Methodist Church is a part of the Texas Annual Conference.
Pastor Michael Gienger has a vision of building a community at Galveston Central Church, where all are welcome, regardless of socioeconomic status. "My dream for Central is that you walk in there and can't tell the difference, who is being served and who is serving," he said.
It all started with "Peacemeals." In October 2018, the congregation was meeting for their annual picnic at Kempner Park – where a number of Galveston's homeless men and women also gathered.
Church members asked the individuals in the park to join them for the meal. Later, they also invited them to come to church on Sunday.
"Nobody thought anyone would take them up on it," Gienger recalled. "But they showed up, and we started developing friendships."
The church then extended its outreach by providing shower facilities for the area's homeless people and purchased three washers and dryers to allow them to do their laundry on campus as well.
The bicycle repair ministry started this past February. Just like with cooking Peacemeals, the lines are blurred between who is serving. Everyone is welcome to use their talents to help others.
Everything was going smoothly – when the world changed.
COVID-19 struck. "It was incredibly stressful," Gienger said.
The church wanted to continue to do good, while still not putting anyone at risk.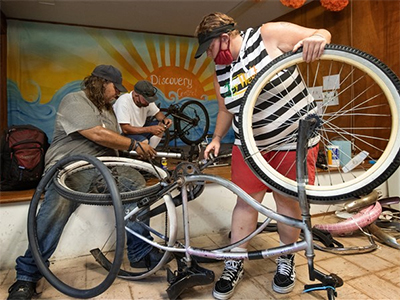 Bicycle repair is a volunteer-led ministry at Galveston (Texas) Central Church, a United Methodist church. The bikes are a valuable resource among those with otherwise limited access to transportation. From left are: Ricky Postell, Randall Wood and Misty Bonham. Photo by Mike DuBose, UM News.
"How do you continue to serve this vulnerable population – who are even more vulnerable at this time?" Gienger asked.
"We couldn't shut down," Gienger said. "We had to figure out a way to stay open safely."
The church worked with the University of Texas Medical Branch to develop plans and protocol. "We found a way to continue to serve," Gienger said. "Our numbers have boomed since during the pandemic. It's been vital that we stay open."
As church services became virtual, the doors stayed open to those who needed a shower and to do laundry. They were simply spaced apart to preserve social distancing. Masks were provided. The congregation also rented a hand sanitization station, allowing more handwashing.
Meals are still provided – but now are packaged to go. Individuals can no longer linger at the church around a dining table.
Gienger worried that the two communities he had helped bring together – housed and unhoused – would become separate again.
He is searching for innovative ways to keep that spirit alive. Part of the effort includes education – teaching volunteers how they continue to treat others with compassion and dignity, even while wearing a mask and in a shorter time frame.
In a time of uncertainty, challenges and economic hardship, Gienger believes the church can be part of the solution.
excerpt from a story by Lindsay Peyton, Texas Annual Conference
This story represents how United Methodist local churches through their Annual Conferences are living as Vital Congregations. A vital congregation is the body of Christ making and engaging disciples for the transformation of the world. Vital congregations are shaped by and witnessed through four focus areas: calling and shaping principled Christian leaders; creating and sustaining new places for new people; ministries with poor people and communities; and abundant health for all.