Millennials are getting older. As you might recall, they were born between 1981-1996 (wasn't that just yesterday?). The youngest Millennials will be 24 and the oldest Millennials will be a whopping 39-years old in 2020.
Older Millennials are close to being mid-career. Their earning power is growing and they have most likely put those burdensome student loans behind them. Their children, if they have any, are probably beyond infancy. They're getting to be in a position to give both of their time and financial resources.
In her recent article I'm a Millennial Donor. Here are Five Things Cultural Entities Should Know, Colleen Dilenschneider outlines what she and her peers are looking for in their experience with non-profits and – by extension – their congregations. Here are three of her observations. You can read all five of them here.
I make nearly all of my donations on line.
I give impromptu donations to entities that provide personal attention.
Serving on a Board of Directors is one of the most rewarding experiences I've ever had.
Let's unpack.
1. On-Line Donations: As Dilenschneider says, "I have also never once responded to a snail mail request for donations – even if I like the organization and would be willing to donate in general. If paying by mail is the proposed 'best option' in the ask, I just won't give. Putting a check in the mail sounds like a risky, unnecessary adventure to me."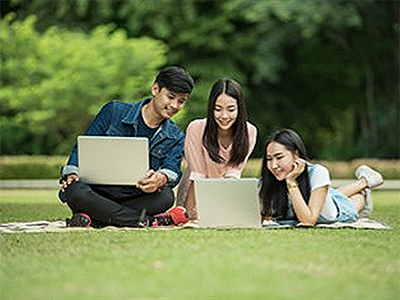 I bet these Millennials are donating. Sasin Tipchai@Pixabay.
I cannot tell you how many times I have heard "but what about the on-line fees?" My response? "Would you like to get a donation?"
Re-read Dilenschneider's words. Putting a check in the mail seems like a risky proposition. Millennials have more trust in technology; that needs to be honored. Stop making it hard for Millennials to give in a way that is meaningful and easy for them.
2. Personal Attention: Dilenschneider relates this to the unexpected customer service that she's received. Someone called. Someone went above and beyond. Someone said a special "thank you." As she says, "What a reminder [it is] that humans see our names when we [donate] and even that can be an opportunity to connect with someone."
3. Serving in Leadership. I remember, lo those many years ago, when I was asked by my pastor to be the chair of the Administrative Council. I wasn't quite 40 and had two small children. I said, "I'm flattered" and he responded with a deadpan, "Are you being sarcastic?" I guess a "yes" was not exactly the response he expected.
Like my experience when I served, Dilenschneider says, "I cannot even begin to describe how much I've learned (and continue to learn) being on this end of [organizational] leadership. I get to take part in hard conversations, help drive cutting-edge sector evolution, and connect with truly incredible fellow board members. It's not always easy, but it is always rewarding."
Bottom line: Millennials are in a position now to make a difference in your organization or church leadership. Don't assume they don't want to be of service. Ask.
There you have it. The three things you can do to make Millennials feel like you notice them and that you want them to be active participants in your congregation or organization. If you don't offer on-line donations yet, make that your 2020 resolution. Providing personal attention is easy, but it will take intention. And asking a Millennial to be a leader? What a fun opportunity. Do these three things and surely, you will be a rock star in the eyes of all those 24- to 39-year-olds you love.
Cesie Delve Scheuermann, consultant in stewardship, development, and grant writing, Oregan-Idaho AC,
United Methodist Church Giving is about people working together to accomplish something bigger than themselves. In so doing, we effect change around the world, all in the name of Jesus Christ. To read stories about the generosity of United Methodists click here.