Bosnia and Herzegovina (BiH) is located at a crossroad between Eastern and Western Europe. Since 2017, it has become a major artery for migrants hoping to enter the European Union from Pakistan, Afghanistan, Syria, Iraq, Iran and northern African countries. Approximately 18,000 people pass through BiH every year. Four centers receive migrants in Una Sana Canton in the northwest region of the country, the main reception area for new arrivals, including Unaccompanied and Separated Children (UASC). Four more centers are situated in other BiH cantons.
But before migrants enter Western Europe, they must first pass through Croatia, along BiH's northern border. Though Croatia is a member of the European Union, it does not welcome migrants intending to cross its border.
"People that gather along the Croatian Border refer to crossing as 'Going to the Game,'" noted the Rev. Jack Amick, director of the United Methodist Committee on Relief's Global Migration program. He visited one of the reception centers to meet with staff of UMCOR's partner, Church World Service. CWS, in partnership with the Social Welfare Center in Bihac, works with unaccompanied minors in receiving centers. While most of the youth are between the ages of 14 and 18, the staff has intervened for unaccompanied children as young as five and assists parents with younger children.
Your gifts on UMCOR Sunday helps support the foundation for the United Methodist Committee on Relief (UMCOR) to share God's love with communities everywhere.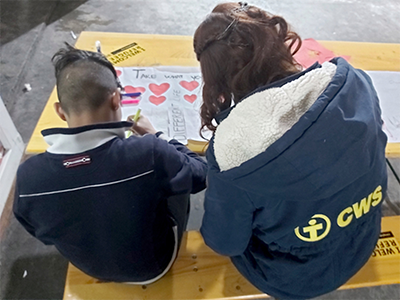 CWS staff member works with one of the boys in her care at a receiving center in Una Sana Canton in Bosnia-Herzegovina. PHOTO: CWS.
UMCOR has supported the CWS program in BiH for several years with grants that help them undertake specific interventions for children and youth. Currently, CWS is utilizing a $50,000 grant to reach older boys along with other migrants, mainly men, who find themselves outside the reception centers. Warmer weather increases the chances for survival outside, but it also increases the number of new arrivals. Food packets, hygiene supplies, clothing and masks are essential deliveries for CWS mobile teams checking on people, particularly youth, living in makeshift settlements.
Through a previous UMCOR grant in 2019, CWS worked in both Bira and Lipa to provide dedicated space for unaccompanied children, youth and young adults, providing a range of age-appropriate services. CWS staff members serve as official guardians for individual children, helping them access available health and social services. In 2020, when the reception centers were under lockdown because of the coronavirus pandemic, CWS activities with children and youth expanded to provide music lessons, language courses, art classes, sports and recreational activities inside the centers to help the youth and young adults through quarantine, which greatly relieved social pressure and improved mental health for all.
Often the mobile teams find young people they know when they encounter people living outside. Zindan (age 24) decided to stay in an improvised shelter close to the border as he prepared to cross, intending to reach one of the German-speaking countries. Zindan attended CWS programs and his favorite was German language class. One of the CWS guardians traveling with the International Organization for Migration team met Zindan during an outreach visit. Zindan recognized her immediately as his former German language teacher.
Her outreach work remains critical and the only way to provide services for Zindan and other people who are stranded outside the receiving centers.
Amick reflected: "Working with migrants, no matter what their situation, is an act of faith. We see just a glimpse of their journey. We don't always know if they will get to their destination, but we help them the best way we can while we are with them."
UMCOR's work with refugees, asylum seekers and other displaced migrants needs your support. In honor of World Refugee Day, June 20, 2021, a gift to UMCOR Global Migration, Advance # 3022144 will help more people on their journey home.
excerpt from as tory by Christie R. House, consultant writer and editor, Global Ministries and UMCOR.
One of six churchwide Special Sundays with offerings of The United Methodist Church, UMCOR Sunday calls United Methodists to share the goodness of life with those who hurt. Your gifts to UMCOR Sunday lay the foundation for the United Methodist Committee on Relief (UMCOR) to share God's love with communities everywhere. The special offering underwrites UMCOR's "costs of doing business." This helps UMCOR to keep the promise that 100 percent of any gift to a specific UMCOR project will go toward that project, not administrative costs.
When you give generously on UMCOR Sunday, you make a difference in the lives of people who hurt. Give now.