They escorted Abraham Lincoln's body to his burial in Illinois. They served lemonade to guests at the White House in an age of temperance. They had roles in inaugurations and extended spiritual advice to presidents on justice issues, ranging from slavery to war.
United Methodists have a long history of ties to U.S. presidencies. In fact, Methodism began its relationship with the presidency through the general who would become the nation's first elected leader.
After the Revolutionary War, Methodist Bishop Francis Asbury approached George Washington (1789-97) twice, first presenting an anti-slavery petition from Methodist bishops, and later to assure the new president of Methodist support for the new republic.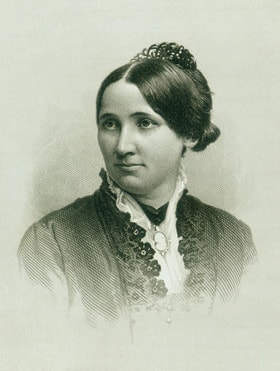 First Lady Lucille "Lucy" Ware Webb Hayes was a devout Methodist. She joined the president in saying prayers after breakfast and conducting hymn sings with members of Congress. Photo courtesy of United Methodist Commission on Archives and History.
It would be more than a century after the nation's birth, however, before a Methodist would be in the White House as president. Rutherford B. Hayes (1877-81) attended Methodist schools and, as president, attended Foundry Church, a Methodist church in Washington, D.C., with his wife, Lucy. One of the founders and the first president of the Home Missionary Society (a precursor of United Methodist Women), Lucy was known affectionately by White House guests as "Lemonade Lucy" because she did not serve alcohol at White House functions, following Methodism's commitment to temperance.
Less than two decades later, another Methodist, William McKinley (1897-1901), was elected president. Early in life, McKinley had considered the Methodist ministry, but later became a lawyer. He remained active at the Methodist Church of the Savior in Canton, Ohio. He served as Sunday school superintendent and trustee.
McKinley's assassination in 1901, after election to his second term in office, left an impact on the Methodist denomination, according to Dale Patterson at the United Methodist Commission on Archives and History. "It touched the hearts of church members in a lot of places," he said. "I've personally seen windows dedicated to President McKinley inside churches in Kansas and Oklahoma."
McKinley death touched many hearts
Funeral services were held at McKinley's home church in Canton, where reminders of the assassinated president still can be found. On the west wall of the sanctuary are four stained-glass windows, given to the church by his widow in memory of her late husband. The flag that draped his casket is displayed in the church library.
A century later, George W. Bush (2001-09) entered the office as the nation's first United Methodist president. Raised in Presbyterian and Episcopal churches, Bush became a United Methodist after marrying his wife, Laura, a lifelong Methodist, in 1977. Both attended and taught Sunday school at Highland Park United Methodist Church in Dallas.
After he was elected governor of Texas in 1994, Bush worshipped at the Tarrytown United Methodist Church in Austin. Today, his presidential library is on the Dallas campus of Southern Methodist University, the alma mater of his wife.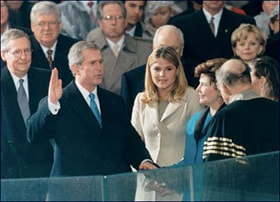 George W. Bush became the 43rd President of the United States in January 2001. Photo courtesy of White House Photo.
Other presidents also have Methodist connections.
James K. Polk (1845-49) had a conversion experience at a Methodist camp and considered himself a Methodist, though he continued to attend Presbyterian services out of respect to his mother and his wife. Shortly before his death, Polk was baptized and confirmed into the Methodist church by the Rev. John B. McFerrin, the same pastor who was present at his conversion years before.
While in the White House, Andrew Johnson (1865-69) accompanied his wife, Eliza, to services at Foundry Church. Almost 125 years later, Bill Clinton (1993-2001), a Southern Baptist, would do the same with his wife, Hillary, a lifelong Methodist.
'God bless the Methodist church'
Although never baptized into any church, Ulysses S. Grant (1869-77) regularly attended services at Metropolitan Memorial Methodist Church in Washington, D.C. "Grant was very sympathetic with the Methodists," said Patterson, noting Grant was friends with Methodist Bishop John P. Newman, who was present when Grant died of cancer in 1885.
Visits from presidents, no matter their denomination, continue to be points of pride for United Methodist congregations across the nation such as First United Methodist Church, Jasper, Ala., where a funeral in 1940 for House Speaker John Brockman Bankhead brought President Franklin D. Roosevelt (1933-45), along with future president Harry Truman (1945-53), to its sanctuary. Today, a large brass plaque marks the pew where Roosevelt sat.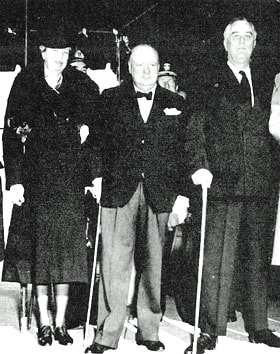 First Lady Eleanor Roosevelt, Winston Churchill and President Franklin D. Roosevelt prepare to leave the White House for Christmas services at Foundry Methodist Church in this 1941 photo. Photo courtesy of Foundry United Methodist Church/Acme Photos.
United Methodists also have had a role in high-profile ceremonies related to the presidency. When President Barack Obama was inaugurated into office in 2009, the Rev. Joseph Lowery, a United Methodist pastor and civil rights activist, delivered a prayer. Lowery has served churches in Atlanta; Birmingham, Ala.; and Montgomery, Ala.
Even Abraham Lincoln (1861-65), who frequently spoke of Christian principles but had no specific church ties, was touched by Methodism. His parents were married by a Methodist minister in Washington County, Ky. Later, at Lincoln's White House, a frequent visitor was Methodist Bishop Matthew Simpson. After Lincoln's assassination in 1865, Simpson traveled with the president's body back to Springfield, Ill., and delivered the eulogy.
The presence of a Methodist bishop for Lincoln's funeral was no surprise given his respect for the Methodist church. In 1864, shortly before his death, Lincoln offered this praise for the young denomination:
"It is no fault in others that the Methodist Church sends more soldiers to the field, more nurses to the hospitals, and more prayers to Heaven than any. God bless the Methodist Church. Bless all the churches and blessed be God, who in this our trial, giveth us the churches."
Watch a video about the United Methodist landmark that was the church home of past U.S. presidents and Supreme Court justices.
United Methodist Communications contact is Joe Iovino.
This story was first published Feb. 21, 2011 and updated February 16, 2023.