Pat Gardiner of Calvary United Methodist Church in Lewiston, Maine is a welcoming soul who works tirelessly to ensure that people's needs are met.
"I spent many years working at restaurants waitressing, hosting, etc. But at that time I didn't know that God was getting me ready to do," she reflects.
Gardiner leads her church's City Mission meal program that is made available to members, homeless, families and individuals, from the neighborhood and beyond. They serve two free meals a week, year-round—dinner on Wednesdays and breakfast on Sundays. The food ministry welcomes between 40 and 75 guests for each meal who all abide by the single requirement: good behavior.
"Our place is a little different from some soup kitchens as we've worked hard to make a type of family style restaurant," notes Gardiner. "People come in that have been eating out of dumpsters. I make the main course from scratch and offer a nice, healthy meal for them as if they're eating at home or at a friend's house." Gardiner is inspired by Jesus' instruction to "feed my sheep" (John 21:17, CEB) and with the help of the Good Shepherd Food Bank of Maine she fulfills that calling.
"I have discovered that I love cooking for crowds. It's a very creative thing." she shares. "Based on what we have and what I foresee coming, I plan a menu for the entire month. I've really gotten it down to a science."
Four days a week, she engages with the program. Outside of menu planning, Gardiner orders and delivers food, and does prep work for and cooks each meal. To ease the workload, other volunteers join in the food delivery, final food preparation, service, and clean-up.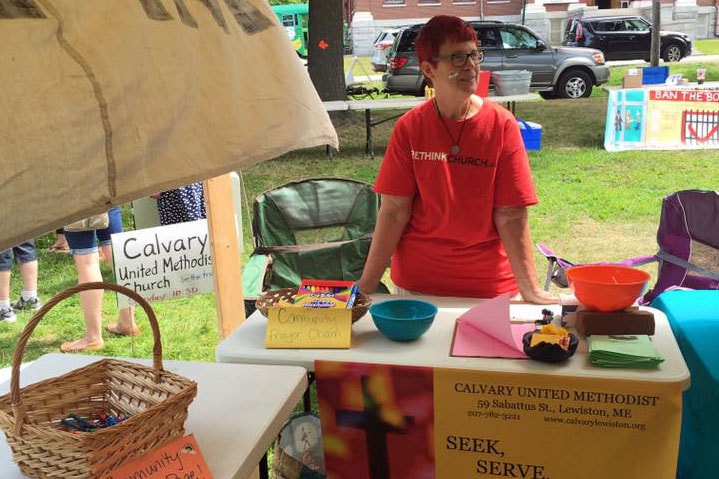 Sherry Beck-Poland, City Mission's treasurer, shares that Gardiner "provides a meal, a smile, and a hug, as needed. She quietly serves the Lord and the Lord's people."
A good steward of resources, she mindfully avoids running short on food while ensuring minimal to no waste. In fact, the leftovers from breakfast often benefit those finding respite from storms within the same dining room that serves as a warming center on cold and rainy Sunday afternoons.
Gardiner partnered with her church to launch the program after identifying a need in the community. "Our warming center got started because two single moms with small children, who had been living at a local shelter, told me one Sunday at breakfast that the previous rainy and windy Sunday they had spent the afternoon with their kids in a parking garage because the shelter is closed during the day and so are libraries, etc. I proposed opening a Sunday afternoon warming center during the winter months when nothing else is open for homeless folks." Now the program is an active part of Calvary UMC's ministry. Although the warming center officially closes once the weather heats up, Gardiner often opens the doors to welcome people during severe rain and extreme heat.
She says that they "have snacks, drinks, games, and books available. People come in, eat, and fall asleep because they feel comfortable and safe." Gardiner humbly states that "it's not a huge thing." However, the center she birthed offers a much needed service for the people that enter its doors.
Her other church-related endeavors have included a United Methodist Women rummage sale supporting mission outreach, care of Calvary UMC's property, and representation of the church at community events.
Gardiner serves the greater community by volunteering twice a week as a companion at Lewiston's The Center for Wisdom's Women. "I'm a listening presence offering calm and encouragement," she shares. "We accompany women where they are in their lives, good or bad, being people they can rely on."
In 2015, Gardiner was recognized by The Maine Commission for Community Service's volunteer foundation receiving a Governor's Award certificate and recognition on the Maine Volunteer Roll of Honor for completing over 500 hours of volunteer work for the center. According to VolunteerMaine.com, the state's average adult volunteer serves for 37 hours annually; so when coupled with her church volunteerism she continually proves that she is willing to go above and beyond the norm to help others.
"I just try to be present for whoever needs a sympathetic ear, whether at church or at the women's center. My ministry is mostly just showing up regularly and doing what I can."
Read about more #AmazingUMCHeroes.
*Brenda Smotherman is a senior public relations specialist with United Methodist Communications. She can be reached at 615-742-5488 or [email protected].