First Continuous Methodist Presence in Alaska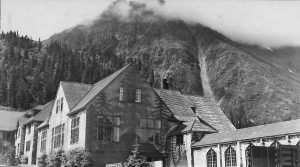 Jessie Lee Home, Unalaska, circa 1920
Lydia Hill Daggett was a native of Boston who played a pivotal role in introducing Methodism into Alaska in the late 1880s. Her labor resulted in the opening of the Jesse Lee Home and School in Unalaska, the first successful Methodist outpost with continuity in the territory. She also championed the founding of schools for Native Americans in the state of Washington and worked to establish educational opportunities for African American children in Louisiana following the Civil War.
Mrs. Daggett was editor of the magazine of the Woman's Foreign Missionary Society, from 1871 to 1882. In 1886, she became secretary of the new Alaska Bureau of the Woman's Home Missionary Society (WHMS) and worked tirelessly to realize the founding of an educational institution serving indigenous Alaskan youth. An earlier effort by the society in Unga was short lived because of funding challenges.
Mrs. Daggett persuaded a commercial company to buy her a ticket to Alaska and was successful in laying the groundwork for the Jesse Lee Home and School, which opened in Unalaska 1890. She convinced both the WHMS and the denomination's Missionary Society to contribute to the project and, working with Alaska's commissioner of education, figured out a way to combine public and private support for the school. She also cultivated individual private donors.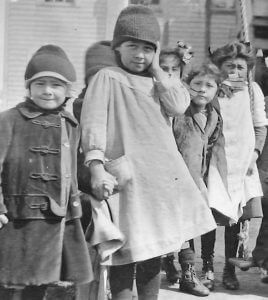 Jesse Lee Home residents, circa 1916
Lydia Hill Daggett died in 1901. The minutes of the WHMS for that year, recorded this testimony: "Having lived in the fear of God, in her extremity she was rewarded by a sense of his tender love. No woman more upright in spirit has ever been associated with us in missionary work."
The Jesse Lee Home and School operated in Unalaska until it was relocated to Seward in 1926. It would become part of the Alaska public school system, being moved to Anchorage in 1964 when a massive earthquake damaged the Seward building. The Seward building still stands, and the name "Jesse Lee School" continues in use in Anchorage.
Adapted by Elliott Wright from information in Six Decades of Service: 1880 to 1940, a history of the Woman's Home Missionary Society of the Methodist Episcopal Church by Ruth Esther Meeker, and data from the internet site of the Alaska Department of Education, https://education.alaska.gov/DOE_Rolodex/SchoolCalendar/Home/SchoolDetails/57060, and Alaska Child and Family, and Appletons' Annual Cyclopedia and Register of Important Events …, Volume 41