Although Ed H. Winton Jr. and Jo Evans Winton always cancelled each other's votes at the polls, they agreed 100% on supporting the mission and ministry of Africa University.
Your support of the Africa University Fund apportionment supports the general operating expenses of Africa University including faculty and staff salaries and vital infrastructure.
Their interest was piqued by their daughter Lisa Tichenor, who now chairs the AU Tennessee corporation board.
"Mom and Dad became involved in Africa University through their support of me following my discovery of the wonderful mission of AU at the 1988 General Conference," Tichenor recalled.
Neither Ed nor Jo Winton ever traveled to the Zimbabwe-based university, but they stayed abreast of its development. "Mom supported my work on behalf of Africa University beginning in 1989," Tichenor said. "She took care of my young children when I traveled for AU."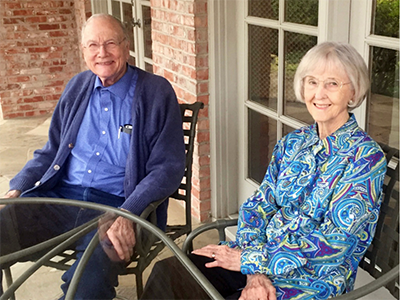 Courtesy photo.
In 1993, the Rev. John Wesley Z. Kurewa, AU's first vice chancellor, and his wife Gertrude came to Dallas and stayed with the Tichenors for 10 days. "Mom got to know them," Tichenor said. "She came over several times to keep my boys while I drove the Kurewas to speaking engagements. She drove them to the airport when they left town and felt very connected to the university ever since."
Tichenor's last conversation with her father was bittersweet.
"In 2018, as I was going through security on my way to Africa University," Tichenor said, "Dad called and wanted to talk. I spent 45 minutes visiting with him in the Atlanta airport about the university and some ideas he had for development. When I landed in Johannesburg, I found out he had passed away. I love that my final conversation with him was about AU."
Recently, Jo Winton ensured her family's love for Africa University would continue. The $150,000 Jo Evans Winton and Ed H. Winton Jr. scholarship endowment will benefit international undergraduate women studying agriculture at AU. With the current gift, investment in Africa University spans three generations of the family.
The couple modeled service to others.
Family discussions of politics nurtured the children's interest in the world around them. "Mom and Dad always cancelled each other out at the polls," Tichenor smiled. "Mom took me to hear female political candidates give speeches. They both made me think that nothing was beyond my ability to achieve it."
The Wintons' marriage was a genuine partnership, noted Chris Winton, Lisa's brother.
Both Lisa and Chris are grateful for their family's partnership with Africa University.
"Dad loved being able to help people successfully manage the financial aspect of their businesses and see them prosper," Chris Winton said. "He made agricultural loans that fueled the economic growth of the community.
"He would be very happy, as Mom is, to see their names associated with a scholarship such as the one being provided by their gift to Africa University."
Tichenor concurred. "Mom and Dad were 100% committed to Africa University," she said. "My involvement with AU would look very different were it not so."
excerpt from a story by Barbara Dunlap-Berg, a freelance writer and editor living in Carbondale, IL
One of seven apportioned giving opportunities of The United Methodist Church, the Africa University Fund transforms Africa by educating and empowering students from across the continent through Africa University, the first fully accredited, United Methodist-related educational institution on the continent. The Africa University Fund supports the general operating expenses of Africa University including faculty and staff salaries and vital infrastructure. Please encourage your leaders and congregations to support the Africa University Fund at 100 percent.