In April, some 500,000 people joined hands to form a "human peace chain" along the 500 km long Demilitarized Zone between South and North Korea. They expressed their strong desire for permanent peace in the Korean Peninsula, gathering to celebrate the first anniversary of Panmunjom Declaration and commemorate the centennial of the 1 March Independence Movement.
Rev. Sang Chang, World Council of Churches (WCC) Asia president, urged WCC member churches and all people of good will to continue to express their solidarity with Korean people. "The WCC will continue to work with the Korean people for the permanent peace on the Korean peninsula," Chang said on the day the chain was formed.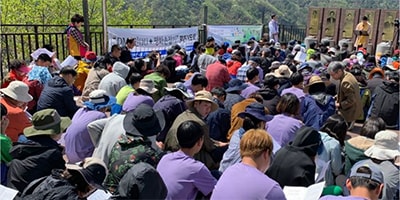 Peace worship during the human chain, organized by the NCCK at World Peace Bell Park, Hwachun, gathered more than 1,000 people. Photo: NCCK.
The World Council of Churches is an ecumenical partner supported by the Interdenominational Cooperation Fund apportionment, which enables United Methodists to share a presence and a voice in the activities of several national and worldwide ecumenical organizations
In a message, WCC general secretary Rev. Dr Olav Fykse Tveit said the WCC endorsed a worldwide call for the reunification of Korea. "As a Christian fellowship, the WCC will continue to stand with our brothers and sisters in Korea and invite all Christians to pray for the Korean peninsula and that God's will, for justice and peace, be done," Tveit wrote.
Human peace chain participants, in a call to action issued on 27 April, said the wish of the people has been expressed. "With just one heart, we took our neighbors' hands, looking for the day when we will hold our hands of North and South from Halla to Baekdu," they wrote. "Through 70 years of separation, we learned that peace is the responsibility of our people."
Their independence is more necessary than ever, the call notes. "It is more so because the peace that we have restored will benefit the world," reads the text. "We do not doubt that the suffering of the 70 years' division will become the foundation and the asset for the advancement of the world."
Human Peace Chain Movement. Photo: John C Park/DMZ.
They also expressed their belief that their land will become a land without nuclear weapons. "Therefore, break down the barrier that separates the nation and make this land free," the call reads. "In the 70 years, people in the North and South have lived in different systems, but the future of the Korean people converges creatively, and the world will unfold the peace of the land."
The human peace chain also urged people to resist false power. "Let us cry to the world that peace of this land is the will of heaven and the desire of the people!" reads the text.
All people are passing through this important historical moment, the council message reflects. "True peace will not come from any of the great powers surrounding the Korean Peninsula, but we believe that our salvation, God, will listen to our prayers and make a new history of peace through us," reads the text. "Let us, the children of God, reach out with the hand of peace first."
World Council of Churches website
One of seven apportioned giving opportunities of The United Methodist Church, the Interdenominational Cooperation Fund enables United Methodists to share a presence and a voice in the activities of several national and worldwide ecumenical organizations. Please encourage your leaders and congregations to support the Interdenominational Cooperation Fund apportionment at 100 percent