Korean Evangelist, Teacher and Bishop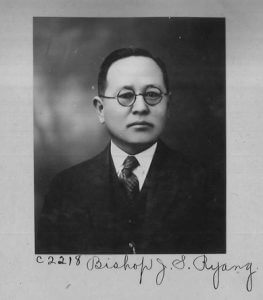 Board of Missions of the Methodist Episcopal Church , "Mission Photograph Album – Portraits #04, Page 226,"
UMC Digital Galleries
J. S. Ryang was born in Korea in 1879. He was educated and converted in the MECS mission schools in Shanghai. In 1906 he went to the United States and pastored a Korean church in San Francisco for three years. In 1909, he entered Vanderbilt, received his degree, and went on to Yale Divinity School.
After graduation from Yale, Ryang went back to Korea to teach in the Methodist Union Theological School and edit church literature. He was the Centenary secretary for Korea in 1918. Aside from his teaching and editorial duties, he was also a passionate traveling evangelist. He organized 150 churches and was the agent for the conversion of 16,000 new Christians in his career. In 1921, he became superintendent of the Siberian-Manchurian Mission. During the 1920s, Ryang led a campaign for union of MECS and MEC missions in Korea. The union was accomplished with the formation of the Methodist Church in Korea in 1930. The new church elected Ryang to be its first bishop.
He was chosen president of the Korea Red Cross in 1945. When the North Koreans invaded the south in 1950, they seized Ryang at his office in Seoul. He was never seen again and is presumed to have been killed by his captors.
Taken from Robert W. Sledge, "Five Dollars and Myself": The History of Mission of the Methodist Episcopal Church, South, 1845-1939. (New York: General Board of Global Ministries, The United Methodist Church, 2005), p. 388.