Peace Award-Winning Missionaries to Algeria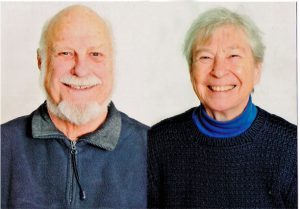 Pastor Hugh Johnson and his wife Shirliann ("Fritzi") received the 2014 World Methodist Peace Award. Hugh and Shirliann dedicated their lives to The United Methodist Church for more than 40 years – 1963 up to 2005 – working in Algeria. The couple operated under a simple slogan: The church must be where the plight of the people is at its greatest. They learned Arabic, Kabyle and French, sharing the local life with the Algerian people in the time of the Revolutionary War and the subsequent turmoil as well as in later years of serious unrest.
The World Methodist Peace Award was conceived in 1976. It is presented to people who are, in a unique way, examples of courage in the service, of creativity in the commitment to peace, and of consistency even in the face of difficulties – or, as Gillian Kingston from Ireland also said, to people who have "overcome the fear of the stranger."
Kingston, the Vice-President of the World Methodist Council said, "I cannot think of people more worthy of this honor" than Hugh and Shirliann Johnson. Many people would feel that attacks on them personally and on their home would be good reason to leave a country. But in spite of a number of dangerous situations, they made North Africa their home and also "opposed the authorities" in their stand for the faith. However, the Peace Award would not only be an expression of honor and thankfulness for a life-long work and witness, but also a sign "that we identify in an appropriate way with the suffering church" in North Africa.
"Why we?" the couple asked when they realized that they were selected to be the recipients of the 2014 World Methodist Peace Award. "We did not do anything special," stated Hugh Johnson during the official ceremony. "And we particularly did not do it alone," but always in cooperation with other members of the small Christian community in Algeria.
Hugh was born in Virginia and Shirliann in New Jersey. After schooling, Hugh was ordained an elder in the Switzerland-France-North Africa Annual Conference, which appointed him to Global Ministries for service as pastor and superintendent in Algeria. Thomas Kemper, a past General Secretary of Global Ministries, noted of their work, "They were first in the Kabyle Mountains east of Algiers, then for many years in the capital city. Hugh had a circuit covering 86,000 square miles. Fritzi was a teacher and worked especially in teacher training for those engaged with refugee and special needs youngsters."
In the desert west of Algeria, Shirliann Johnson helped to organize humanitarian aid to Sahrawis living in refugee camps. In addition, she trained young women in building and conducting kindergarten classes to assist and uplift children and families who had to leave their homes due to armed conflicts.
Hugh Johnson was repeatedly confronted with great difficulties in his work and experienced several life-threatening situations. As Kemper explained, "The Johnsons weathered a war of independence, shifting ideologies, chilling government attitudes toward churches, and restrictions on worship and Christian education." Nevertheless, they always stood strong in their faith and were a pillar in the faith community.
Retired United Methodist Bishop Heinrich Bolleter recalled, "When I accompanied them in their service, there were many alarming situations in regard to the Christians in Algeria and also in regard to the safety of Hugh and Fritzi Johnson. From time to time friends from the USA and from Europe put pressure on me and told me that it would be time to get Hugh and Fritzi out of the danger zone. But when I once visited them worrying about their safety and trying to evaluate the situation, Hugh responded to my concerns with the following words: 'The church needs to be present where the needs are the greatest!'
"Hugh and Fritzi always showed a deep solidarity with the people in Algeria and Tunis – with Christians and Muslims, with the poor and with migrants. Whoever knocked on the doors of the church center was welcomed. This solidarity was echoed in an impressing way one day. During the time of the war in Iraq, a furious crowd of Muslims attacked the house where Hugh and Fritzi lived. The situation was very dangerous – and then the neighbors surrounded the house with a protecting human chain."
Hugh Johnson regularly spoke on Algerian radio programs. The fact that he often was in discussion with Muslim representatives further aided efforts at reconciliation and mutual understanding in the communities he served. He was also an intermediary who repeatedly approached Muslim people and met them with appreciation. Shirliann explained their view of interreligious dialogue, "To encounter the other person with full respect, to accept him unconditionally and to reach out the hand in a brotherly way – only by doing this a dialogue is possible. Of course, dialogue also entails risks: the risk to change the other, but also the risk to be changed yourself."
This biography is adapted from two World Methodist Council articles: "Pastor-Couple to Receive World Methodist Peace Award" and "'Worthy Recipients' of the World Methodist Peace Award," which were themselves reprinted from articles by Barbara Streit and Urs Schweizer on umc-europe.org.