Missionary and Educator in Korea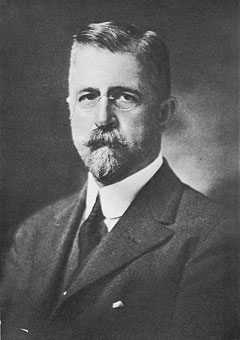 Born in New Haven, Vermont, Hulbert graduated from Dartmouth College in 1884. After two years of study at Union Theological Seminary in New York, he arrived in Korea in 1886 and served for five years as a teacher at the Royal English School in Seoul. A Congregationalist, his only missionary service was with the Methodist Episcopal Church in Korea from 1893-1897. In this period he directed the Trilingual Press, supported the progressive and independence movements, preached, and wrote of his research on Korea. A confidant of the Korean king, he served from 1897 to 1905 as principal of the Imperial Normal and Middle Schools and published a series of texts for modern education in Korean. He published his History of Korea in 1905 and The Passing of Korea in 1906, which reflect his growing disillusionment with Japan's aggression in Asia. An indefatigable advocate of Korean progress and independence, he played an active, though unsuccessful, role in Korea's behalf during the diplomatic negotiations that led to Japanese control and annexation of Korea between 1905 and 1910.
Returning to the United States, Hulbert was ordained in the Congregational Church in 1911 and spent over a decade championing the Korean cause on the lecture circuit. He was invited to Korea by President Syngman Rhee when the Republic of Korea was established in 1948, but his wife's death delayed his travel until 1949. He died soon after his arrival and was buried with full national honors in Seoul.
By Edward W. Poitras.
This article is reprinted from Biographical Dictionary of Christian Missions, Macmillan Reference USA, copyright 1998 Gerald H. Anderson, by permission of Macmillan Reference USA, New York, NY. All rights reserved. It is taken, with permission, from the History of Missiology.
Bibliography
Most of Hulbert's important articles can be found in The Korea Review and Korean Repository.
A short biography is in vol. 1 of Hulbert's History of Korea, Clarence Norwood Weens, ed. (New York: Hillary House Publishers; Routledge and K. Paul, 1962), while vol. 2 provides an annotated bibliography of his writings.
Digital Texts
Hulbert, Homer B. A Comparative Grammar of the Korean Language and the Dravidian Languages of India. Seoul: The Methodist Pub. House, 1905.
The History of Korea. vol. 1. Seoul: Methodist Publishing House, 1905.
The History of Korea. vol. 2. Seoul: Methodist Publishing House, 1905.
The Passing of Korea: Illustrated From Photographs. New York: Doubleday, Page & Co., 1906.
The Japanese in Korea: Extracts from The Korea Review. N.p.: n.p., 1907.
Vanderlip, Washington B. and Homer B. Hulbert. In Search of a Siberian Klondike. New York: The Century Co., 1903.
Primary
Hulbert, Homer B (ed.). The Korea Review: A Monthly Magazine (Seoul: The Methodist Pub. House, 1901, etc.).
The Korean Language. Washington: n.p., 1904.
The Status of Woman in Korea. New Haven, CT: Human Relations Area Files, [197-?]. Microfiche.
Echoes of the Orient: A Memoir of Life in the Far East. [Seoul]: Tosŏ chʻulpʻan Sŏnin, 2000.
Hulbert, Homer B. and Richard Hulbert (compiler). Dr. Homer B. Hulbert's Letter Book. [Seoul]: Korean Education Archives, Seoul National University, 1995. At the Columbia University Libraries, New York, NY, USA. [Introduction in English and Korean (by Sŏul Taehakkyo); correspondence in English.]
Underwood, Horace Grant, James Scarth Gale and Homer B. Hulbert. A Concise Dictionary of the Korean Language: In Two Parts, Korean-English and English-Korean. Yokohama: Kelly & Walsh; New York: A.D.F. Randolph, 1890.
Secondary
"Homer Bezaleel Hulbert." In Year book of the Congregational and Christian Churches. Vol. 1951, p. 29. New York: General Council of the Congregational and Christian Churches of the United States, 1940-1960. At the Godfrey Memorial Library, Middletown, CT, USA.
Kim, Tong-jin. Crusader for Korea, Homer B. Hulbert. Seoul: Ch'am Choŭn Ch'in'gu, 2010. [In Korean.]
Ryang, Key S. John Ross, Homer B. Hulbert and James S. Gale's Contribution to the Modern Korean History: A Bio-Bibliographical Study. Seoul, Korea: Institute of Korean Studies, 1983. Also in Korea Observer 14 no. 2 (Summer 1983): 172-84.