First African American woman mission executive; mentor to many women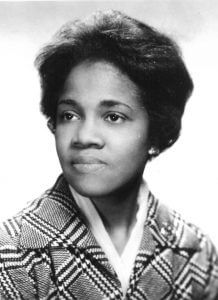 Theressa Hoover. Image originally from the Board of Missions of The Methodist Church.
Theressa Hoover was the first and she made sure she was not the last.
The first African American woman to become a top staff executive for The United Methodist Church was a mentor to many young women, promoted the leadership of laywomen and engineered a secure future for the women's organization of the denomination during a period of tumultuous change.
Hoover led the Women's Division of the United Methodist Board of Global Ministries, the corporate body of United Methodist Women, for 22 years, from 1968 to 1990.
"She had a presence that could be larger than life, but she also had a presence that could be as soft and gentle as a dove," said Andris Salter, a UMW executive who witnessed how Hoover ministered to women struggling with issues such as physical and sexual abuse.
One of five children born to James C. Hoover and Rissie Vaughn, Hoover's options might have seemed limited in the segregated south, especially after her mother died when she was a small child. But her father, a city hospital orderly, taught her to be fearless and gave her the confidence to do what she needed to do.
A 1946 graduate of Philander Smith College, she helped the Little Rock Methodist Council, a coalition of 19 black and white Methodist congregations, convert a former turkey farm into Camp Aldersgate, dedicated in 1947 as a camp for African American youth and a racially integrated training center.
The national stage
Segregation remained firmly entrenched in the Methodist Church when Hoover joined the staff of the Woman's Division of Christian Service, part of the Board of Missions, in 1948 as a field worker for the denomination's Central Jurisdiction.
Traveling across the United States in Jim Crow days as an African American woman meant "she had a job for the Women's Division that required sacrifices that none of the other women had to think about," said Peggy Billings, who became "fast friends" with Hoover in the 1960s as they worked together on racial justice issues.
Even later, at the board offices in New York, "it was not an easy time for a Black person to agree to come on an all-white staff or to take on an organization that had historically been white," she noted.
The year that Hoover was elected the Women's Division top executive — 1968 — was a pivotal year as the Methodist Church merged with the Evangelical United Brethren Church.
Barbara Campbell, who was Hoover's "second in command" at the Women's Division for many years, noted that Hoover had to rebuild the division staff practically from scratch from the merger to the massive reorganization for the new United Methodist Church in 1972.
As with other reorganizations over the years, such tumult endangered the membership and institutional relationships of United Methodist Women. "There were always those who thought they could handle our money better than we could," she added.
Hoover's "outstanding leadership" on church union for the Methodist Church was crucial in an era when it was difficult for both a woman and a person of color to command influence and power, said Betty Thompson, communications director for the Board of Global Ministries during that time.
Possessed with an active prayer life and deep grounding in the faith and history of Methodism, Hoover was not afraid to "speak truth to power," but did so with grace, compassion and respect, women close to her recounted.
"She didn't suffer fools gladly, but neither did she take herself (too) seriously," Campbell said.
Administratively, she was "a great boss," Billings said, who supported and appreciated competent staff and, Campbell added, always operated under the assumption that others should know the mechanics of running the division.
She made United Methodist Women a strong organization by emphasizing the need to understand its membership, mission and intent and by "training other women to take your place, do the work and share the message when you no longer do it," said Salter, who was hired by Hoover in 1982.
In her private life during the New York years, she was an avid reader, frequent theatregoer and skilled southern cook, relying upon a wide circle of friends that she called "her community" for support.
Mentor and promoter of laywomen
Hoover took young women of all races under her wing, nurturing leadership skills that would have an impact on the denomination for years to come.
When M. Garlinda Burton first met Hoover while covering a Women's Division meeting for United Methodist News Service, she was amazed to see an African American woman have so much influence in the church.
Hoover encouraged Burton, who retired as top executive of the United Methodist Commission on the Status and Role of Women, to see herself as a leader. She also learned from Hoover that women like herself — laywomen, women of color, women from small towns — "are the legs the church stands on and that position deserves respect."
For the Rev. Maxine Allen, on staff with the Arkansas Annual (regional) Conference, Hoover was one of three women, along with Bishop Leontine T.C. Kelly and Euba Harris Winton, "who laid the legacy where, particularly, Black women could see themselves outside of the local church environment."
Allen went back to school at the age of 40 and then on to seminary. A UMW scholarship helped her graduate without debt.
Hoover's niece, Melba Smith, who started work with the Women's Division at the Church Center for the United Nations in 1970, also felt fortunate for the guidance provided by her aunt. "I was privileged to have been a member of her staff for so many years," Smith said. "She was one of my greatest mentors."
Jan Love, who first met Hoover when she was 17, followed her lead in encouraging The United Methodist Church to bring its gifts and "considerable weight" to the table in ecumenical matters and served with her as United Methodist representatives on the World Council of Churches Central Committee.
Love also was the Women's Division's top executive from 2004 to 2006 before becoming dean of Candler School of Theology at Emory University.
In recognition of her mentoring prowess, the Women's Division created the annual Theressa Hoover Community Service and Global Citizenship award when she retired in 1990.
Back home to Arkansas
Hoover was inducted into the Arkansas Black Hall of Fame in 2000, but a more visible sign of her zeal for mission can be found at the Theressa Hoover United Methodist Church in Little Rock, thought to be one of the denomination's first local churches named for a laywoman.
Hoover "had played a big part" in the life of the Rev. William H. Robinson, Jr., who chartered the congregation in December 1981 and served as its pastor for 32 years.
Over the years, Theressa Hoover United Methodist Church has built 70 new homes in the community, supported projects for women, children and youth and started a certified faith-based licensed substance-abuse program.
"I think that she spelled out mission work for this denomination," Robinson said. "She tackled strategic problems in a sensitive way to get it done and she certainly trained and provided leadership and gave inspiration to many minority women, especially, who followed in her footsteps.
"She was just a jewel."
This story was written by Linda Bloom for the United Methodist News Service.