When we think about Native American Ministries within the United Methodist Church, what comes to mind? Is it evangelism and bringing the word of God to Native Americans? Or is it the culture that Native Americans bring to United Methodists?
Pastor Hill is also the Chair of CONAM (Committee on Native American Ministries) for the Mountain Sky Conference.
Your gifts on Native American Ministries Sunday helps support the ministries of the Committee on Native American Ministries in their annual conferences. This offering serves to remind United Methodists of the gifts and contributions made by Native Americans to our society.
On Native American Ministries Sunday we honored Pastor Calvin Hill and his wife Sheri Hill of the Blackfeet United Methodist Parish (BUMP) on the Blackfeet Reservation in Montana. They aspire to bring these ideals together and to show that the love of God is centered in his love of community.
Pastor Hill has never had an easy life. Although he had a strong calling to follow God, he wasn't accepted in ministry by the church easily.
"I got beat up by missionaries and I was raped by them," he tells us in this video by Jaime Parra. "I saw promiscuous behavior in the church. They cut my hair."
"Come to find out," he said, "in the early developments of the church, it was the church that was [supposed to] assimilate to the Natives."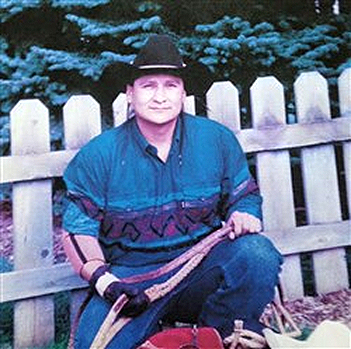 Pastor Calvin Hill.
Since being appointed as Pastor to Babb and Browning UMCs/Blackfeet Parish in 2014, Pastor Hill has worked to develop a "contextualized ministry," that offers resources for Natives in the areas of health, food, economics, family, and traditional culture.
Because of the history of racism and violence in his community, he seeks to develop "holistic sustainability – financial, spiritual, emotional and physical."
"I may not be accepted by all communities," he continues. "I may not be accepted by all people or even my own nation, but when they come, and they ask me for my help, I will be there for them."
Pastor Hill is concerned there still is not a high representation of leadership of Native Americans in the United Methodist Church and that poverty and financial stability are still major afflictions to growth.
He is currently working as an adjunct professor teaching "cultural humility," reaching students across the world.
"Christianity will always be a second religion," he says. "I know my traditional ways and I also know my faith established by the Christian community, and I engage both sides, but I cannot tell anybody how I walk both sides, I just do."
Pastor and Sheri Hill have created a congregation of 37 lay leaders and with a yearly camp meeting revival every August where hundreds arrive per day.
His future goals include building a sobriety home and an international cultural education center.
story by Diana Aqra, Media and Communications Specialist, Mountain Sky Annual Conference

One of six churchwide Special Sundays with offerings of The United Methodist Church, Native American Ministries Sunday serves to remind United Methodists of the gifts and contributions made by Native Americans to our society. The special offering supports Native American outreach within annual conferences and across the United States and provides seminary scholarships for Native Americans.
When you give generously on Native American Ministries Sunday, you equip seminary students who will honor and celebrate Native American culture in their ministries. You empower congregations to find fresh, new ways to minister to their communities with Christ's love. Give now.