Founders of Ganta Methodist Mission Station in Liberia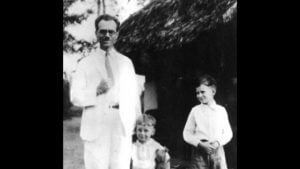 George Harley. Photo taken by Mrs. Harley, August 1958, World Outlook, p. 24.
Dr. George Way Harley and Winifred Frances Jewell Harley, a botanist, founded and served the Ganta mission station in Nimba County, Liberia, from 1925 to 1960. Dr. Harley was a prolific and dedicated man whose interests could not be confined to one profession. An article in World Outlook, June 1945, describes Dr. Harley as "a doctor, preacher, carpenter, engineer, and machinist."
Originally from North Carolina, Harley earned his medical degree from Yale University and then studied anthropology and culture at Harvard. In addition to his missionary assignment, he also served as a field officer for Harvard's Peabody Museum, writing half a dozen or so books on his studies of Liberia's northeastern tribes. Collections of Harley's papers and Liberian artifacts, most notably the masks of the northeastern tribes, can be found at Duke University, Harvard University, and William and Mary University.
The Harleys arrived in Liberia in 1925 with the Methodist Episcopal Church to begin a carefully planned venture into Liberia's interior. Much of Liberia's population, and particularly its government (which was dominated by freed slaves from the United States using English as their common language), resided along the country's western coastline. The United States had "bought" land from one of the chiefs on Liberia's west coast to set up this colony for freed African-American slaves. However, as with most colonial transactions, the sale did not consider the rights of the already numerous indigenous tribes and peoples living in the country. It was for the indigenous people that the new Ganta mission was founded. The Harleys were so concerned about the unwitting transfer of western culture to the northeastern people that the first buildings of the mission station (constructed with local workman, materials, and technology) were all built in the same style as native Liberian structures.
As World War II drew to a close, the Ganta mission station picked up two medical women who had to be evacuated from their work in China. Dr. Hyla Watters arrived in 1950 to become the hospital's first surgeon, and Ms. Dagmar Peterson, an RN from Denmark, started the nurses training program. Peterson stayed only a year, but her work was taken up by Loretta Gruver, a U.S. missionary nurse who devoted 25 years of service to the students of the Winifred J. Harley School of Nursing at Ganta, as it became known. The first Liberian doctor to serve at Ganta was Dr. Wilfred S. Boayue, from 1970 to 1976. He was also the first Ganta student to go on to college and graduate school. He later worked for the World Health Organization as Liberia's country representative.
By Christie R. House, editor, New World Outlook magazine.
Sources
"Ganta in Liberia," World Outlook, June 1945.
"As I See It Now," by George W. Harley, World Outlook, May 1959.
The George Harley Way Papers, 1911-1975, are part of the Duke University Library collection: https://library.duke.edu/rubenstein/findingaids/harley/