Historic Center for African American Mission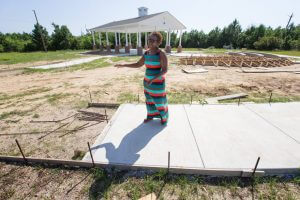 Dorothy Booker walks along the incomplete outdoor prayer pavilion at Gulfside Assembly in Waveland, Mississippi. Hurricane Katrina destroyed every building on the grounds in 2005. Photo by Mike DuBose, UMNS.
Gulfside Assembly, in Waveland, Mississippi, has a distinguished mission history, beginning as a unique Gulf Coast Methodist retreat for African Americans in the 1920s. It received United Methodist Landmark Heritage status at the 2016 General Conference, though at the time, in terms of facilities, it had only an open-air prayer chapel. Other buildings were destroyed by Hurricane Katrina in 2005.
Gulfside began in 1923 by Bishop Robert E. Jones, the first African American episcopal leader of the Methodist Episcopal Church, who was based in New Orleans.
"In the early part of the 20th century, the Methodist Episcopal Church, South, was totally and strictly segregated along racial lines as was most of the South and even America," states the application for landmark status filed with the United Methodist Commission on Archives and History, which oversees the landmark process. "Hotels, restaurants, beaches, churches, and other public facilities were reserved for 'whites only.' African Americans had few, if any, places where they could go for those basic things of life, and especially for recreation.
"Bishop Jones had the inspiration to address a part of this problem after speaking at an event at Lakeside Assembly, a white Methodist campground in Ohio. He would establish a similar place for Black people in Mississippi along the Gulf Coast. Such a place was physically realized on April 16, 1923, as the Gulfside Chautauqua and Methodist Camp Meeting Ground in Waveland, Mississippi, but only after he was able to raise $4,000 through the aid of churches and individuals. He bought 300 acres and leased 316 acres from the state of Mississippi. Gulfside was incorporated on January 24, 1924. The incorporators were some of the most prestigious Black leaders in Methodism in the early part of the 20th century."
Gulfside served for many years, not only as a place for retreats and vacations, but also as a staging area for opposition to racism and segregation. Attorney and later Judge Constance Baker Motely had her headquarters at Gulfside as she waged a legal battle against segregation at the University of Mississippi Law School in 1962. She won in the James Meredith case.
When formal segregation ended in the The United Methodist Church in 1968, Gulfside faced an uncertain future. Could it thrive as a facility for racially integrated study conferences, youth retreats, and mission conferences? It had some success, although on reduced acreage.
The late Marian Martin, deaconess, one-time Global Ministries executive, and longtime Gulfside director, introduced a range of new programs, including one for inner-city youth from nearby New Orleans. But Gulfside had a hard time financially as the 20th century came to a close.
Just months before Katrina hit, the doors were opened on a new complex of buildings aimed at drawing vacationers and young adults. The new facilities were financed in part by funds from the former National Division of Global Ministries.
Deaconess Martin was still director when Katrina blew in from the Gulf of Mexico. Walking in the rubble where her home once stood, looking across the near bare expanse where the chapel, dining hall, residence hall, and the new complex had stood, she is reported to have thanked God for a heritage, if not buildings, strong enough to withstand gigantic storms.
As a resilient symbol of what the future can hold at Gulfside, the open-air chapel on the site is named in honor of the late Bishop Leontine Kelly, the first African American female bishop of The United Methodist Church. Plans were underway in 2017 to restore Waveland for program use.
By Elliott Wright. Elliott Wright is information consultant for Global Ministries. Adapted by the author from a May 2016 story on the Global Ministries website.