For the first time since the pandemic, GET ITC doctoral students travelled for their "Dwelling Together: Intercultural Immersion as Global Learning" course. The primary objective of this course is to expose students to a diverse cultural context of the African diaspora, allowing them to develop an international and intercultural perspective of ministry, both in general and in relation to their specific projects.
Gammon Theological Seminary is one of the 13 United Methodist seminaries supported by the Ministerial Education Fund apportionment of the United Methodist Church.
As part of their second-year curriculum, students are enrolled in the Intercultural Immersion course. We are proud to recognize three Gammon students who participated in this trip: Shanee Jeffers, Ayanna Tilghman, and Kylan Pew.
ShaNee Jeffers: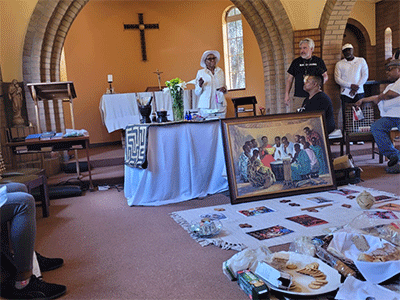 Courtesy photo.
I feel incredibly grateful for the immersive experience I had in South Africa, also known as 'Azania' by my black brothers and sisters. Despite the challenges they face, including the lingering effects of Apartheid, high unemployment rates, and unfulfilled political promises, the people there still manage to maintain a positive attitude and smile.
As I observed a local mining community of Marikana stop and help us move our tour bus out of the mud, I was in awe at how they worked in harmony despite the lack of comforts we in Atlanta take for granted. I'm speaking of running water and electricity, our base expectations for living here in the U.S. It is a miracle how people who have experienced so much despair still walk in such hope. I am so proud to have walked alongside Azanians in being Black" and African and appreciate the support of our United Methodist denomination and African American school of theology, Gammon.
Ayanna Tilghman:
My intercultural immersion experience (required course) in Johannesburg, South Africa, was situated in the context of Black Liberation Theology. This course of study involved gaining an understanding of the impact of apartheid and colonialism on the country and its people, as well as exploring the rich traditions, values, and beliefs of Black South Africans. The principles of Black Liberation Theology in South Africa emphasized the importance of fighting against oppression and promoting justice and equality for marginalized communities, particularly Black communities. Through intercultural immersion in South Africa, I gained a deeper understanding of these principles and their application in the country's ongoing struggle for liberation and social justice.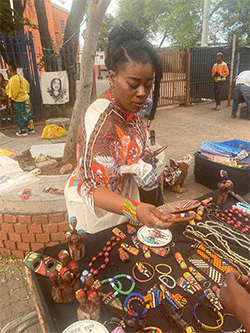 Courtesy photo.
During the aforementioned intercultural immersion, I participated in a range of activities, including visiting historical sites and museums, participating in cultural events and celebrations, eating traditional cuisine, interacting with local people/communities, and engaging in social justice initiatives. This experience fostered a deeper understanding of cultural diversity and promoted cross-cultural understanding and solidarity. Overall, the intercultural immersion in South Africa (within the context of Black Liberation Theology) was a powerful way to gain a deeper understanding of the country's history, culture, and struggles for liberation and social justice, while promoting empathy, solidarity, and cross-cultural understanding. I am very grateful for the opportunity and financial support provided that allowed me to fully engage in all that this experience provided.
Kylan Pew:
South Africa boasts a vibrant tapestry of culture, religion, and natural resources, all interwoven with the thread of resilient people striving to overcome the harsh legacy of Apartheid. Throughout our Immersion, we visited significant sites such as the Historic Regina Mundi Church and the Marikana massacre hill, and attended enlightening lectures, including Dr. Tendayi Sithole's talk on Black Revolutionary Prayer. These experiences were a testament to the courage and resilience of both our ancestors and the people of 'Azania.
This pilgrimage to South Africa also allowed me to engage with local communities and better understand their traditions and values. Because of Gammon's generosity and this program's design, I have been granted the unique opportunity to expand my research to a context outside of my local community. I believe this sets Gammon students up for longevity and success to adapt our research projects and our gifts and graces to the United Methodist Church at large. This immersion opportunity enhanced my ability to connect with people from various backgrounds and further the ITC curriculum of being prophetic problem solvers situated at the intersection of faith and culture.
Gammon Theological Seminary, Atlanta, GA
One of seven apportioned giving opportunities of The United Methodist Church, the Ministerial Education Fund is at the heart of preparing people for making disciples of Jesus Christ for the transformation of the world. The 13 United Methodist seminaries help students to discover their calling through the challenging curriculum. The fund enables the church to increase financial support for recruiting and educating ordained and diaconal ministers and to equip annual conferences to meet increased demands. Please encourage your leaders and congregations to support the Ministerial Education Fund apportionment at 100 percent.