Future seminarian Allison Schwarz credits The United Methodist Church with shaping her identity. "They showed me what it was like to be part of a family that wasn't related," she said. "They modeled how to be the hands and feet of Christ, while I learned about who Christ was."
Attending Le Seuer United Methodist Church in her Minnesota hometown of Le Seuer, population 4,000, Allison grew up on a farm.
"I was very involved in everything," she recalled. "I grew my leadership abilities in my small town. I was section leader in my percussion section of the band, volleyball team co-captain my senior year and Knowledge Bowl captain. I built many relationships that taught me about caring and balance."
When Allison went on her first mission trip, she felt God calling her to the ordained ministry. "God has reaffirmed my call many times," she said, "putting people in my path that encourage me to be involved. I participated in the Experience Leadership Internship (ELI) Project. My placement at Christ United Methodist Church in Rochester, Minnesota, gave me the opportunity to experience God working in a big city. I preached and supervised a team at Service to Others in Relational Ministry (STORM) Camp."

Allison's pastor encouraged her to apply for a United Methodist scholarship and wrote her a letter of recommendation. Today, she is a student at the University of Wisconsin – Eau Claire.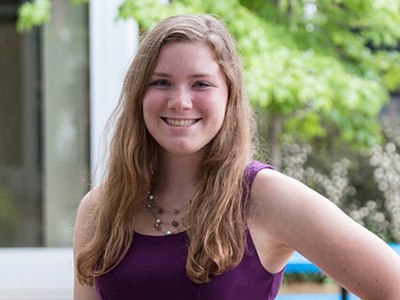 Courtesy photo.
The Gift of Hope scholarship, Allison said, "gave me a little more security as a student trying to avoid loans. It allowed me to work a little less so I could be more active in campus organizations.
"The church should support United Methodist Student Day," she added, 'because school teaches more than lessons in the classroom. Scholarships help students make the most of their college experiences where they will learn those lessons. I have experienced a passion for God in InterVarsity Christian Fellowship, a passion for justice in many staff and campus organizations, and a passion for equality in Peer Diversity Educators events."
Her most memorable college experience was a civil rights pilgrimage during winter break. "We went to Atlanta, Montgomery, Selma, Little Rock, New Orleans and Memphis," Allison said. "We heard speeches from activists in the movement: Charles Person, the youngest freedom rider, and Linda Blackmon Lowery, a student who marched from Selma to Montgomery in the voting rights march.
"It was a humbling and inspiring experience that words can't always describe. I learned the depth behind the stories I had only read about. It inspired me to be more inclusive and break down barriers."
Next on her agenda is a research project to interview people on their opinions of the church. She acknowledged "a lot of statistics about the dropping attendance numbers" and said she hopes to discover people's reasons and preconceived notions of religion.
Now in the candidacy process to become an ordained United Methodist elder, Allison knows her career will directly involve her faith every day. "I hope to share my faith with many people through the church I will serve and through my life," she said. Her goals are to earn a bachelor's degree, graduating with honors, and then to go to seminary on scholarship.
"I try to let joy shine through me," Allison said. "My friends often tell me that I talk to too many people, often saying hello and asking how they are doing. I pray for my non-Christian friends and look for opportunities to tell them about my faith, but until then, I try to make my actions show them the love of Christ."
Barbara Dunlap-Berg, freelance writer and editor, retired from UMCom
One of six churchwide Special Sundays with offerings of The United Methodist Church, United Methodist Student Day calls the church to support students as they prepare for life in uniting faith with knowledge. The special offering provides scholarships for qualified United Methodist applicants.
When you give generously on United Methodist Student Day, you support students as they prepare for life in uniting faith with knowledge. Give now.