When it comes to raising money for missions, the folks at Robertsdale United Methodist Church in Robertsdale, Alabama, have not changed the recipe for more than three decades.
The key ingredient of the church's fundraising success is a secret fruitcake recipe known only to a few who are not telling.
This past November, the group baked 1352 fruitcakes, netting approximately $18,000 for outreach projects at the local, national and international levels. A women's medical clinic across the street from the church, the Under His Wings Foundation that helps underserved women and children, and a young ophthalmologist missionary in Kenya are among those who benefit from the missions funds. The number of two-pound cakes baked, which sell for $20 each, and money raised has remained consistent for years.
Obviously, a fruitcake that receives preorders of 1200 with the extras selling out in less than a week is not your average fruitcake.
"It is a secret recipe," says Mary Barnhill, a church member who has been part of the fruitcake team since it started. "It's different from the Claxton fruitcake in that our recipe is a light batter," "We do not use any of the citrus fruit. We use the candied cherries and candied pineapple. But it's the taste that makes it different from others."
"When you bite into our fruitcake, you get a taste of pure fruit, candied fruit and nuts. It is not a heavy batter; it's very light batter," adds Brenda Pierce, also a church member. Brenda was the apprentice to the late Lollie Gravette, who is credited with spearheading the fruitcake project.
Fruitcake baking days start early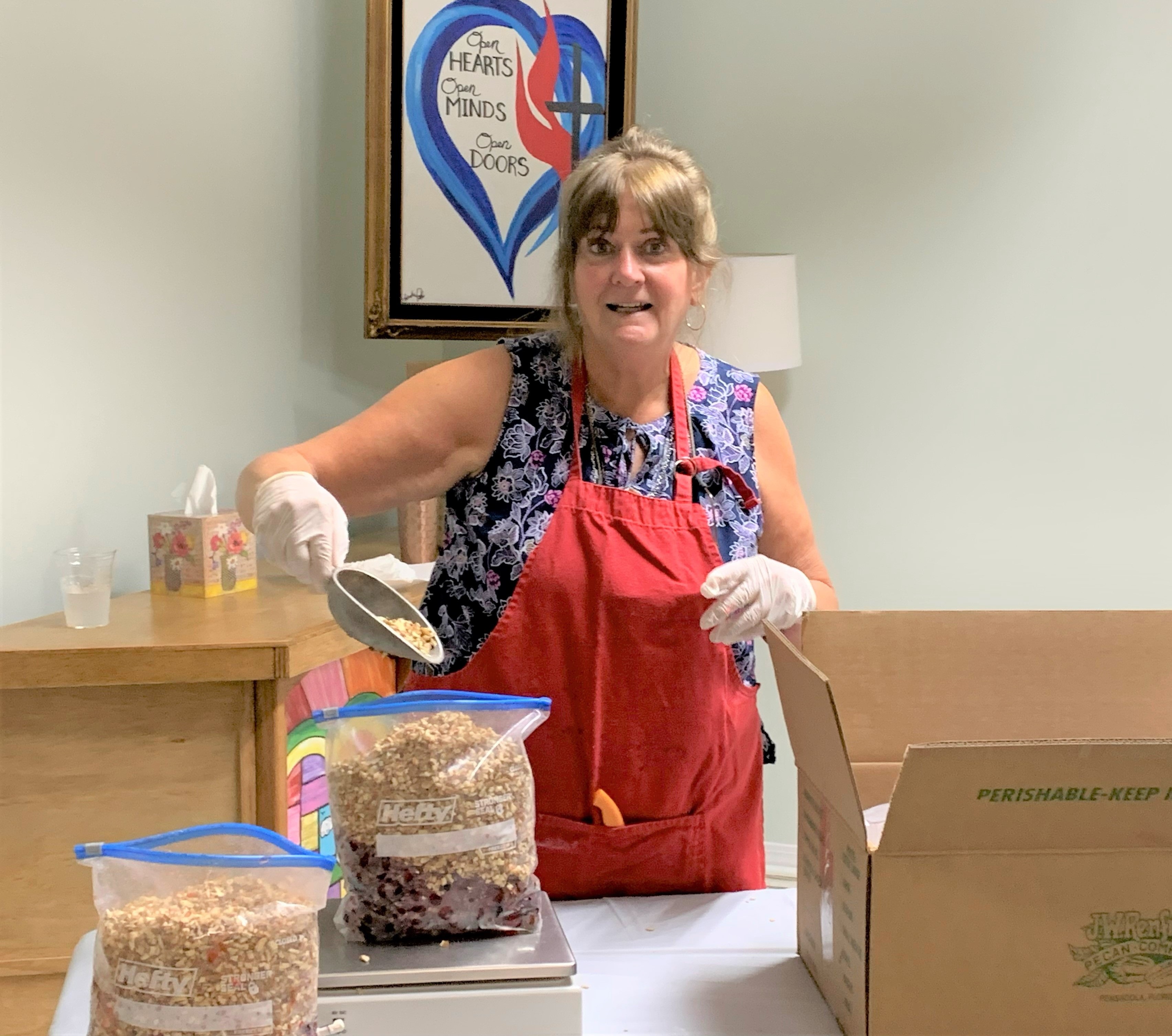 Volunteers at Robertsdale United Methodist Church in Alabama spend days making fruitcakes. Photo courtesy of Robertsdale United Methodist Church.
When it comes time for baking, 65 to 70 volunteers show up to measure ingredients, stir batter, package the cakes or bring lunch and refreshments for the workers. The process takes one work week, with a minimum of 20 people needed in the kitchen at any given time. That time begins as early as 4:30 a.m. and extends all day.
"We have some people in the church who want to come before they go to work on their jobs," Barnhill says. "Brenda is an early morning person and a lot of these people are also, so they get here at 5 o'clock in the morning."
"We start about 4:30 in the morning," Pierce interjects. "It's gotten earlier on me. They want to get something done before they have to leave to go to their jobs. But that way, you involve more people because we do it in shifts. If we didn't do that, those people couldn't participate. And that's not good, because if they want to participate, I want to use them."
Making fruitcakes may be only part of the reason volunteers turn out in large numbers, says the Rev. Jonathan Hart, pastor at Robertsdale United Methodist Church. With church attendance averaging 160-180 in worship, just short of half of the church is involved with the fruitcake project.
"There is camaraderie and storytelling and joking," Hart says. "When you are (making fruitcakes), part of the value is being able to serve alongside people and having a sense of community, even as you know you're doing something for somebody you may never meet. People go home physically exhausted, but it's just so spiritually and emotionally uplifting for everybody that participates."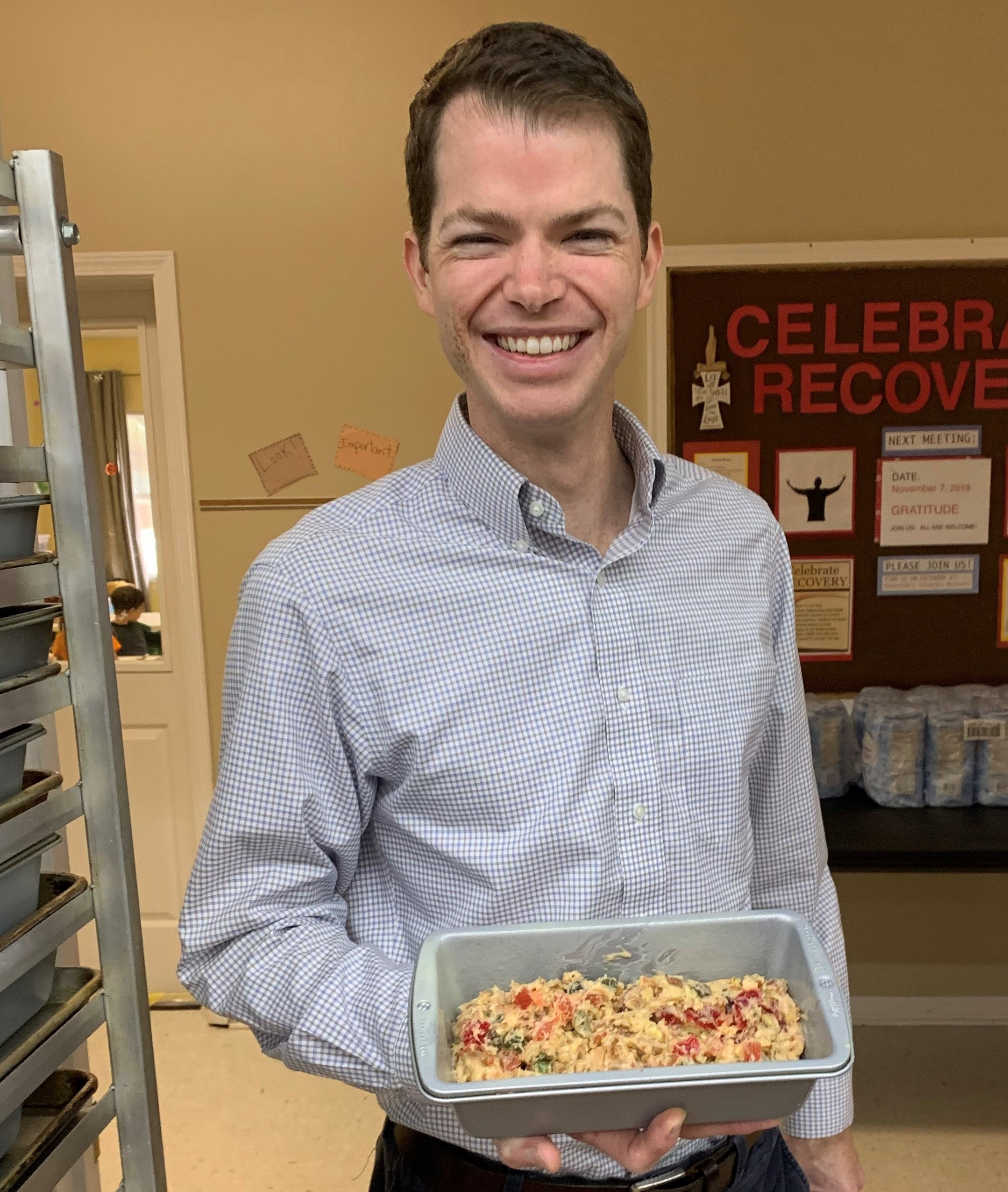 The Rev. Jonathan Hart of Robertsdale United Methodist Church in Alabama prepares to bake a fruitcake. This ministry, Hart says, is as much about camaraderie as about fruitcakes. Photo courtesy of Robertsdale United Methodist Church.
Attracting new members through the kitchen
An unexpected bonus from the fruitcakes has been a boost to the church roster.
"We also brought in new members into the church that started with stirring fruitcakes," says Pierce.
It's true, Hart confirms. Several people who first came to the church to help out with fruitcake baking have joined in recent years.
"The expectation used to be that the front door of the church is the worship service and everything you did was to try to get somebody to come to worship," Hart says, adding that the whole picture of church life includes worship, fellowship and community life, spiritual growth and service.
"One of the things that I love to see is that paradigm seems to be shifting," he says. "People are willing to walk through one of those doors if they see it as valuable or authentic. And so it makes the people that enter the life of the church, not through worship, but through service, they're actually willing to give of themselves before they see anything else about the church."
Crystal Caviness works for UMC.org at United Methodist Communications. Contact her by email or at 615-742-5138.
This story was published December 18, 2019.