American Methodist educational missionary in China and India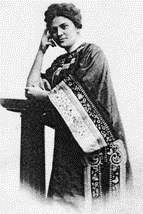 "Welthy Honsinger Fisher." In Fisher, Welthy Honsinger.
To Light a Candle
. New York: McGraw-Hill Book Company, Inc. 1962.
Welthy Honsinger was born in Rome, New York, and grew up hoping to be an opera singer. But upon hearing a missionary speaker, Honsinger discarded her plan, completed her education as a teacher, and sailed to China in 1906.
As headmistress of the Bao Lin school in Nanchang until 1917, she promoted higher academic standards and Chinese leadership. Upon choosing a Chinese to succeed her and then leaving, she was terminated by the Methodist Woman's Foreign Missionary Society.
Back in the United States, she became a YWCA war worker and then edited World Neighbors, a Methodist mission magazine. In 1924, she married Frederick Bohn Fisher, American Methodist bishop of India and Burma and friend of Gandhi and Tagore.
The Fishers' commitment to indigenization caused Frederick to resign his bishopric in 1930 in favor of an Indian successor. After her husband died in 1938, Welthy Fisher wrote his biography and studied educational systems throughout the world.
Stylish and articulate, she became a popular lecturer on missions, women's topics, and international friendship. She supported Chinese industrial cooperatives and was accused of being a communist.
In 1948, she was chairman of the World Day of Prayer. Six weeks before his death in 1947, Gandhi asked her to work for India's villages. In 1952, she returned to India to work with Frank Laubach, Christian literacy pioneer. In 1953, she founded Literacy House at Allahabad. Breaking with Laubach, she developed secular methods to encourage functional literacy, linking it with agricultural and industrial development. Literacy House moved to Lucknow and became famous for its effectiveness and its House of Prayer for All People. Fisher was much-honored by the Indian government, which based its village literacy programs on her ideas. She returned to the United States in 1973 and died in Connecticut.
The 1964 Ramon Magsaysay Award for International Understanding.
By Dana L. Robert.
This article is reprinted from Biographical Dictionary of Christian Missions, Macmillan Reference USA, copyright 1998 Gerald H. Anderson, by permission of Macmillan Reference USA, New York, NY. All rights reserved. It is taken, with permission, from the History of Missiology: http://www.bu.edu/missiology/missionary-biography/e-f/fisher-welthy-honsinger-1879-1980/
Bibliography
Primary
Fisher, Welthy Honsinger. Beyond the Moongate: Being a Diary of Ten Years in the Interior of the Middle Kingdom. New York: Abingdon Press, 1924.
Freedom: A Story of Young India. New York: Friendship Press, 1930.
Frederick Bohn Fisher: World Citizen. New York: The Macmillan Co., 1944.
Handbook for Ministers' Wives. New York: Woman's Press, 1950.
To Light a Candle. New York: McGraw-Hill, 1962.
A String of Chinese Pearls. New York: Woman's Press, 1924.
Top of the World. New York: Abingdon Press, 1926.
The Travels of Kim and Chin Chu. New York: Abingdon Press, 1923.
The Travels of Mona and Mani Indian Twins. New York: Abingdon Press, 1923.
Secondary
Kelly, Collen. "The Educational Philosophy and Work of Welthy Honsinger Fisher in China and India, 1906-1980." Ph.D. diss., Univ. Of Connecticut, 1983.
Swenson, Sally. Welthy Honsinger Fisher: Signals of a Century, the Life and Learning of an American Educator, Literacy Pioneer, and Independent Reformer in China and India, 1879-1980. Stittsville, Ont., Canada: S. Swenson, 1988.
A collection of the writings of Welthy Honsinger Fisher may be found in varying editions, printings, and format in the Howard Gotlieb Archival Research Center, Boston University.