When we gathered around tables of thanksgiving, United Methodist Women celebrated National Farm Worker Ministry's 50th anniversary and honored the struggles and victories of farmworkers.
Your support of The World Service Fund apportionment supports program-related general agencies, which are especially important to the common vision, mission, and ministry of The United Methodist Church.
Carla is a mother of three and a farmworker who picks Driscoll berries in Yakima Valley, Washington. She is a member of Familias Unidas por la Justicia (Families United for Justice), a farmworker organization allied with National Farm Worker Ministry. Both she and her husband work every day in the berry fields while their children are in school.
When COVID-19 hit Washington state in 2020, farmworkers were hit hard. They were considered "essential workers" who continued to travel in crowded transport to work fields without adequate personal protection equipment. The workers are not paid for sick days, and most do not have health insurance. They were forced to choose between their health and their jobs.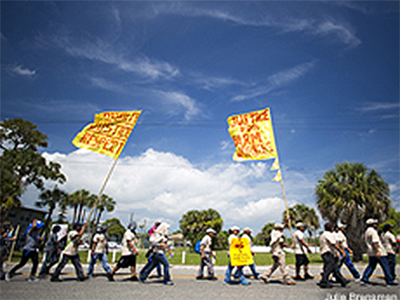 The Coalition of Immokalee Workers held a Parade and Concert For Fair Food in St Petersburg, FL, March 2015.
Schools closed and Carla did not have child care. She had to quit her job to stay home with the children so that her husband could continue to work. That cut their income in half. Carla shared with National Farm Worker board members that she is among the lucky ones because she speaks English and can help her children with schoolwork. She noted that many of her friends and colleagues do not speak English and do not have the capacity, time or internet to help their children with remote schooling. Some workers in the community contracted COVID-19, putting all of them at risk.
Familias Unidas, a farmworker-led group that led a successful organizing effort for a union contract with Driscoll's, has supported Carla and her co-workers in insisting on adequate protective gear and safe conditions for their work during the crisis. This is part of their ongoing efforts to organize for better wages and workplace conditions.
National Farm Worker Ministry collaborates with Familias Unidas and other farmworker organizations across the country to mobilize people of faith to support the leadership of farmworkers themselves, those directly affected by some of the harshest labor conditions in the United States. In 2021, NFWM celebrates its 50th anniversary! United Methodist Women has been an active member for most of that history.
If You Ate Today, Thank a Farmworker.
United Methodist Women concerns about Living Wages for All, Climate Justice, Racial Justice, and immigrant rights are all concerns addressed by the National Farm Worker Ministry.
Celebrating 50 years of advocacy and victories and throughout this rich history, United Methodist Women members have educated and mobilized to support the call by farmworkers to put pressure on growers, buyers and elected officials. The tool of boycotting has been a very effective one for farmworker organizations. For United Methodist Women, the decision to boycott is authorized only by the General Conference of The United Methodist Church, but because of our church's relationship with NFWM, agencies have brought numerous resolutions to General Conference calling on United Methodists to boycott and mobilize on behalf of farmworker struggles.
United Methodist Women celebrates this 50-year partnership with NFWM and with farmworker organizations across the country, knowing their great work will continue to advance worker rights for years to come.
excerpt from a story by Carol Barton, executive for community action for United Methodist Women.
The World Service Fund provides basic financial support to program-related general agencies, which are especially important to the common vision, mission, and ministry of The United Methodist Church. Through World Service funding, agencies support annual conferences and local congregations in living out God's mission for the worldwide Church. General agencies also provide essential services and ministries beyond the scope of individual local congregations and annual conferences through services and ministries that are highly focused, flexible, and capable of rapid response.