Not every United Methodist will be a delegate to General Conference, but that does not mean that you cannot participate in all that is happening May 5-15, 2020, in Minneapolis. General Conference is the global gathering of The United Methodist Church, and there are plenty of ways for you to be involved.
Prayer
Praying for delegates, bishops, speakers, and all those who lead and attend the General Conference sessions is a powerful way to participate. Pray for God to guide the General Conference's decisions, for Christ to lead us into the future, and for the Holy Spirit to empower us to go on toward perfection in our love of God and one another.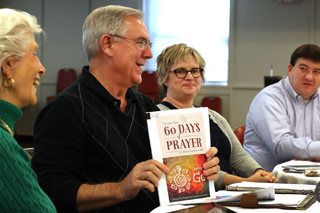 "60 Days of Prayer" is a wonderful resource to help you be in prayer for General Conference before, during and after the gathering. Photo by Kathleen Barry, United Methodist Communications.
The Upper Room has created "60 Days of Prayer" for General Conference, a guide to lead us in prayer for the days leading up to General Conference, the days of General Conference and the days that follow. You can sign up to receive the daily meditations and prayer prompts by email at 60daysofprayer.org.
Know your delegates. Personalize your prayers by lifting up the delegates and leaders from your Annual Conference by name. A list of all delegates and reserves is found here. Consider also writing a note or email, letting them know you are praying for them.
The job of a delegate is time-consuming and sometimes stressful. Many lay delegates are giving up vacation time to be there, and the clergy are often spending an extended time away from their congregations. Lift them, their families, and their churches in prayer.
If you don't know which Annual Conference you are in, find your church in Find-a-Church, then click on the "Additional Info" tab where you will find the name and website of your Annual Conference. Or ask your pastor.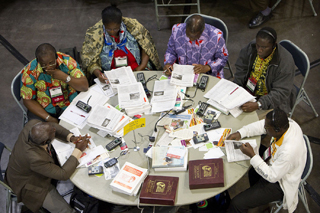 Every annual conference sends a delegation to General Conference. Pray for your delegates by name. File photo of 2012 delegates from Cote d'Ivoire by Mike DuBose, United Methodist Communications.
Pray with a group. Encourage the members of the prayer team at your church to also pray for General Conference in the days ahead, or consider forming a prayer group at your church specifically for this purpose.
Follow along
Our computers, phones, and tablets are giving us more ways to stay connected with General Conference than ever before.
Bookmark the website. GC2020.umc.org is the source for everything about General Conference. News, blogs, resources, videos and photos about everything happening at General Conference are available in this central location. United Methodist Communications will update this page throughout the General Conference with the latest news and daily summaries that share the highlights of each day.
Watch the live stream. Whenever the conference is in session, GC2020.umc.org will feature live streaming video where you will be able to watch the voting, worship, speeches, and celebrations happening on the floor of General Conference. The feed will be available in English, French, and American Sign Language. The schedule is available online, just remember all times listed are Central Time Zone, and you may have to adjust.
Follow on social media. Follow UMCGeneralConference on Facebook, @UMCGC on Twitter, and umcgc on Instragram for stories, photos, videos, and links. Use the official hashtag of General Conference, #UMCGC, on any social media platform to join and follow the conversations of United Methodists all over the world. One of the easier ways to follow #UMCGC will be available at GC2020.umc.org.
Keep up with specific legislation. If you are interested in a specific piece of legislation, possibly one submitted by your congregation or annual conference, you can track it here.
Stay connected
The United Methodist Church is a connectional church. This means that we are not only part of our local congregation, but also part of a global community of people of faith. We have brothers and sisters in the church in Portland, Poland and the Philippines; South Carolina, South Congo and Southern Nigeria; West Virginia, West Zimbabwe and Western Angola; Norway, North-West Katanga and North Georgia; Minnesota, Mozambique and Republic of Macedonia.
When we gather for General Conference, we celebrate this global connection of The United Methodist Church. While we all cannot be in Minneapolis from May 5 to 15, all of us can participate in the work of our church.
While we all cannot be at General Conference, all of us can participate in the work of our church.

TWEET THIS
*Joe Iovino works for UMC.org at United Methodist Communications. Contact him by email or at 615-312-3733.