An Ethnic Scholarship played a major role in connecting Chinese adoptee Anna Ling O'Donoghue with her roots.
"I was dropped off at the Nanping Orphanage, Nanping, Fujian Province, when I was 4 days old and raised by the orphanage staff until my adoption in 1999," said Anna, now a student at St. Olaf College in Northfield, Minnesota.
Anna's adoptive "Mum," one of eight children from a Catholic Irish family, joined The United Methodist Church in 1990. "Mum has a law degree and has worked in corporate, nonprofit and federal government service," Anna said. "She has always stressed our faith community, participation in community and church projects, education and time with family. My life has been very full and blessed."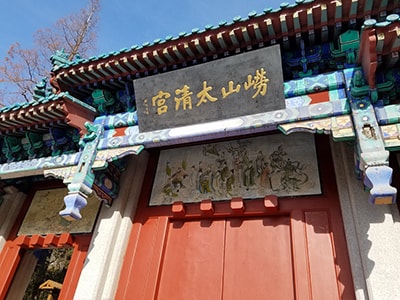 Anna Ling O'Donoghue poses on her vacation in China. Courtesy Photo.
Baptized at First United Methodist Church, Dayton, Ohio, Anna spent her elementary-school years at Epworth United Methodist Church in Indianapolis. "In sixth grade," she said, "we moved to the Washington area because my Mum got a new job. We joined Foundry United Methodist Church, where my involvement increased each year until my high school graduation."
Anna considers herself very fortunate. "My primary joy," she said, "is my Mum. I am also grateful to Holt International Adoption Agency and the work they do with foreign adoptions.
"My challenge has been navigating the fact I am adopted, a Chinese child, by a Caucasian mother. I have been supported in exploring my identity and feeling 'rooted in two worlds.'"
Anna's church family honed her leadership skills and entrusted her with new responsibilities: serving as an acolyte, reading Scripture, participating in Appalachia Service Project trips, recruiting and mentoring other youth, sharing her stewardship testimonial and her high school graduation reflection and, most recently, being an adult leader for the middle-school youth summer service project.
Receiving Ethnic Scholarships in 2017 and 2018, Anna is eager to tell others about how their World Communion Sunday offering makes a difference. "I provided testimony at Foundry services as to the impact the scholarship had on me and encouraged congregants to give," she said. "Foundry members were pleased to hear that 'one of their own' benefited from it."
The scholarships allowed Anna to participate in January interim courses in China and Japan. She treasured the opportunities to learn about her Chinese culture and heritage and further develop and apply her Chinese-language studies. "Not being able to speak my native tongue has been my biggest challenge and the major way this scholarship has changed my life," she noted. "These scholarships affirmed my sense of the vastness of our world, of how we are more similar than we are different and a confirmation that God is good, all the time, and lives in all of us!"
Not yet decided on a career path, Anna is interested in working with Holt International, "as it develops post-adoption services and heritage tours for its adoptees, and assists China in developing its childbirth rate policy and adoption policies," she said.
Anna believes in the importance of being fully engaged and committed to ongoing relationships. "As a daughter, niece, cousin, granddaughter, student and member of Foundry," she said, "I try very hard to do so. By focusing on my studies, I'm honoring the time and effort my Mum is dedicating toward paying for my college expenses.
"The biggest difference I can make in the world today is to show kindness, compassion and love to those I meet."
Barbara Dunlap-Berg, freelance writer and editor, retired from UMCom
One of six churchwide Special Sundays with offerings of The United Methodist Church, World Communion Sunday calls the church to reach out to all people and model diversity among God's children. The special offering provides World Communion Scholarships, the Ethnic Scholarship Program and the Ethnic In-Service Training Program.
When you give generously on World Communion Sunday, you equip gifted, qualified students from around the globe to become the world changers God created them to be. Give now.