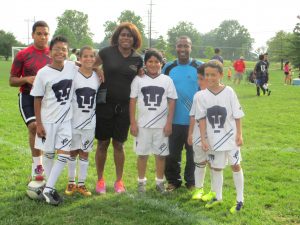 Soraya De Arco with the Esperanza Viva soccer team in Hamilton, Ohio. PHOTO: COURTESY SORAYA DE ARCO
Ministry of Hope with Hispanic Youth
Do you take the things you have for granted?
Carmen, a 35-year-old Mexican woman who lives in Hamilton, Ohio, can answer that question with an absolute no! A single mother with three children, she came to the United States with a desire to find a better future for her family. Having no legal status here, she cannot get a driver's license, so she is not allowed to drive. If she did drive, she would be breaking the law, which could lead to her deportation. Yet she needs to work to support her family, and without transportation, she is faced with a 90 minute walk each way, Monday through Saturday.
In her quest for a better future, Carmen has discovered Deferred Action for Childhood Arrivals (DACA), a program offered by the United States Citizenship and Immigration Services. This program covers any child between the ages of 15 and 30 who has been brought to this country without legal documentation. Carmen's son Fernando was eligible for this benefit. As a result, he now has work authorization and a Social Security card. When he turns 18, he can legally apply for a driver's license.
A Challenge to Love
There are many Hispanic and Latino brothers and sisters who, like Carmen and her family, have come to the United States in pursuit of the "American Dream." Some of them have never before had a helping hand to guide them.
Our challenge from God is to love and help these newcomers. It is easy to love only the people you know—who also know and love you. That requires little effort.
But God challenges us to love people who are different from us. Why do we need to love those we do not know and who are different from us? It is because we are challenged to grow spiritually and to be in connection with God. That connection comes when we obey God's command to welcome the stranger.
Deuteronomy 10:19 tells us to love those who are alien residents in our midst. That is the challenge—to love. If we cannot reach out with our own love, we must love with the love that God pours into our hearts. That love does not belong to us. It belongs to God. Our challenge is to take God's love and use it. When we are using God's love, we are growing spiritually and God will bring healing into our lives. As is written in Romans,"…God's love has been poured into our hearts through the Holy Spirit that has been given to us." Romans 5:5b (NRSV)
Outreach to Youth
Through Esperanza Viva's ("Living Hope") Hispanic ministry, God has allowed us to work with people like Carmen and her son Fernando. Now that Fernando has obtained his work permit through DACA, he is able to work and his earnings can help with the expenses at home. However, because he is not yet 18 and his mother is not here legally, he doesn't yet have a driver's license. Like his mother, he has to either walk or ride his bike to work after school.
The purpose of Esperanza Viva's ministry is to reach youth for Christ. Carmen's youngest child, Jazmen, is 15 years old and part of Esperanza Viva's youth group. Jazmen is learning to sing and play the piano and guitar. Our mission's goal is to get the youth involved in their community and to raise their consciousness concerning the needs of the people around them. As part of this ministry, Jazmen has shown leadership and commitment to serving the community. She attends events even if she has to walk in the rain to participate.
At 11 o'clock on Saturday mornings, First UMC in Hamilton, Ohio, serves a hot meal to anyone who lives in the community. More than 100 people turn out for this weekly event. There, Jazmen can be seen serving meals with joy and love. Not only do we see her helping here with meals, but she also helps the younger children attending Bible School.
Youth like Jazmen are great, and we want our youth to seek God first so that, as a result, they will be able to help others in their community. These teenagers are well acquainted with the environment in which they live and can relate especially well to other teens. First, however, we have to instill in them and in their families a love for God strengthened through prayer, Bible study, and community outreach. In this effort, God has called me to be a helping hand, serving as an instrument of God's love and taking comfort to others who are in need of God's presence and help.
Before I became a missionary, my husband and I worked as pastors in Colombia, Panama, and South Carolina. Now, in Ohio, I work as a lay leader in the Hamilton, Ohio, community. There, I met Carmen, a heroic woman who defied fear through belief in the Lord. My work as a missionary goes beyond the spiritual field, as I am also an attorney with a Colombian law degree. I decided to earn a master's degree in Law to enhance my work with the Hispanic-Latino population.
Our ministry in the community includes adult education, high school, and ESL classes, as well as family counseling, further education to empower women, and immigration guidance. To carry out this ministry, volunteers who have felt called by the Lord donate their time and put their talents and gifts to work in God's service.
By Soraya De Arco. Soraya De Arco is a native of Cali, Colombia. Since 2009, she has served as a commissioned Church and Community Worker with the General Board of Global Ministries. This article was originally published in the January-February 2016 issue of New World Outlook magazine. Used by permission.