First, You must love the Lord your God with all your heart, with all your being, with all your mind, and with all your strength. The second is this, You will love your neighbor as yourself. No other commandment is greater than these. — Mark 12: 30-31, CEB
"The nurses are here! The nurses are here!" These shouts rang out recently at Tree of Life Ministry in Mission, (Advance #123615) South Dakota, when the University of Wisconsin—Eau Claire (UW—Eau Claire) nursing students showed up.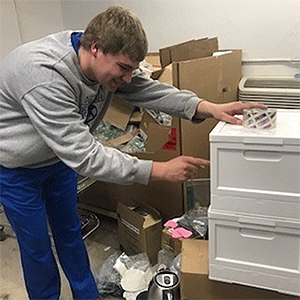 Checking out the supplies on hand. Photos by Rev. Linda Baldock.
Two times each year, in the fall and spring semesters, 15-20 nursing students from UW—Eau Claire travel to the Rosebud Reservation in southwestern South Dakota for a cultural immersion experience. It is an opportunity to learn about nursing care and Native American culture through hands-on clinical experience. In addition, students learn how culture and lifestyle impact healthcare practices.
"Everyone at the Tree of Life gets excited when we see the blue-uniformed nursing students from the University of Wisconsin Eau Claire eagerly hopping out of their rental vehicle," said Linda Garriott, director at Tree of Life. "Dr. Lo runs a tight ship."
Students provide care at the Rosebud Comprehensive Health Care Facility and in the community with the Public Health Nursing Department. These nursing students serve throughout the Rosebud area, working with dialysis, teaching fourth and fifth graders in the local school about their pending puberty, and working with elders, infants, and young mothers as part of the circle of life.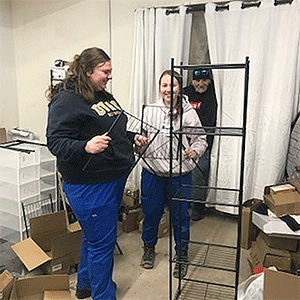 Putting up shelving at the Thrift Store. Photos by Linda Baldock.
You can find the UW—Eau Claire students doing various tasks in the Thrift Store, where they can mingle with customers while stocking shelves, putting items together, and so forth. During their annual visits at the Tree of Life, they conduct a foot clinic, which includes a foot massage. It's a chance for elders and anyone with diabetes to have their feet checked.
Dr. Lorraine Smith, chair of the nursing department, affectionally named 'Dr. Lo,' says she likes to bring the students to the Rosebud Reservation for clinicals, to experience the needs and the culture on the reservation. "The economic needs are greater in South Dakota than on reservations in Wisconsin," shares Dr. Lo. "Students get the opportunity to gain experiences that will help them back at the places they will work. They learn about caring for people ranging from children to grandparents. They see grandparents who are raising grandchildren. They experience how multiple generations are living together in one house."
The students bring great energy, enthusiasm, and love to the Rosebud Reservation. Seeing a group of blue-clad students in a local store, one local woman came to Dr. Lo and told her how much she appreciated them coming and how friendly they always are!
The group that came in April encountered a winter storm, which closed some of their clinical sites, but Dr. Lo always has something in her back pocket, just in case. The students prepared and then delivered via Facebook Live a presentation related to diabetes, presenting it from the Tree of Life office. They also designed informative brochures they distributed at the sites they visited.
Volunteer and Tree of Life Board member, Rev. Linda Baldock, said, "One of the perks of volunteering at the Tree of Life is getting a discount on Thrift Store purchases. Seeing how the students get their 'treasures' packed into the vehicles is always interesting. Usually, they have brought items to donate, such as personal care products, shoes, socks, etc., things they have noticed there's a need for, from previous trips. The information always gets passed along to the next class. Thank you, UW—Eau Claire nurses. We love you! See you in the fall!"
story by Rev. Linda Baldock, Tree of Life Board, with contributions from Doreen Gosmire, director of communications, Dakotas UMC
The Advance is the accountable, designated-giving arm of The United Methodist Church. The Advance invites contributors to designate support for projects related to the General Board of Global Ministries. Individuals, local churches, organizations, districts and annual conferences may donate to The Advance. One hundred percent of every gift to The Advance goes to the project selected by the giver. Gifts to missionaries support the entire missionary community.