Martha Drummer was born in 1871 in Barnesville, Georgia, the third of eight children in her family. Her father, a Methodist preacher, died of typhoid fever when Martha was 15. Drummer moved the family to Griffen, Georgia, where the children had access to public education. Martha finished sixth grade and then had to work to support the family as a domestic worker. After a few years, her pastor recognized her scholarly potential and recommended her to the president of Clark College, an institution founded for African American students by the Methodist Episcopal Church Freedman's Aid Society.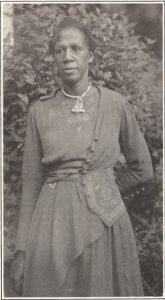 To attend the college, Drummer, at age 22, first needed to complete preparatory school to catch up on the secondary school she had missed. She then entered the college on partial scholarship and worked to provide for herself and the rest of the tuition. In the summers, she taught in rural schools and tutored African American children. It took Drummer eight years to finish her preparatory and college degrees at Clark College—today known as Clark-Atlanta University.
In 1891, she entered the Methodist Women's Training School for Deaconesses in Boston, Massachusetts. After two years of deaconess training, she continued at the Women's Training School three more years to finish a nursing course.
In 1906, the Pacific Branch of the Woman's Foreign Missionary Society employed Martha Drummer as a nurse deaconess and sent her to serve at the Quéssua Mission in Melange, Angola, thus a daughter of the southern Methodist church was sent out by the northern church.
Bishop William Taylor was enlisting African American women to work with African women and children in several new stations in Africa—in Liberia, Angola, and the Congo. In Quéssua, Martha began work with an African American teacher sent from the Chicago area, Susan Collins.
Drummer worked on the campus of Quéssua, but when the rains allowed, she also went out into the villages on medical visits, often accompanied by Quéssua's Angolan Bible woman, Dorcas. Drummer's reputation as a nurse was well known. Shortly after she arrived in Quéssua, 38 children of the orphanage came down with fever. Drummer lost only one. In addition to her Angolan patients, she cared for other missionaries and, at times, for family members of the Portuguese colonizers.
Drummer worked at Quéssua for 20 years before returning to the Untied States in 1926 because of her own poor health. She settled in Atlanta, Georgia, and died there in 1937. She never lost her love for her African home, and she encouraged Methodists to support the work long after her retirement. Her missionary coordinator, Florence Hooper, described her as "irrepressible, her spirit was not dampened, even by prolonged illness."
By Christie R. House, editor, New World Outlook magazine.
Sources
"Martha Drummer, a Study in Achievement," by Florence Hooper, World Outlook, July 1952.
"United Methodist Women in Mission Yesterday, Today, and Tomorrow," address by Dana L. Robert to the Mission Forward Symposium, United Methodist Women, April 19, 2010, St. Louis, Missouri.